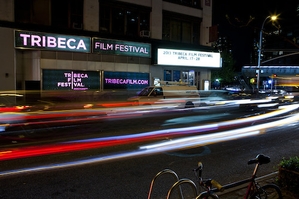 Bowlmor Lanes had more than a few strike outs (a good thing in bowling) last night. SAG-AFTRA's Indie Film Cast Party for the Tribeca Film Festival brought out the stars, neon bowling pins, and the Heinekens to celebrate the Union actors with a presence in the festival.
Kevin Spacey—whose documentary, "Now," about his Old Vic theater tour of "Richard III," is screening at the festival—was bowling with "House of Cards" co-star Robin Wright.
America Ferrera reigned in her new film and festival select "X/Y," and at the lanes as well.
Jon Favreau, at the festival for his film "Chef," which premiered at the Sundance Film Festival, was also in attendance. The film centers on chef Carl Casper, played by Favreau, and his quest to build a food truck business. "Chef" also stars an ensemble cast that includes Dustin Hoffman, Oliver Platt, John Leguizamo, Sofia Vergara, Robert Downey Jr., Scarlett Johansson, and Amy Sedaris.
Indie film director for "Summer of Blood," Onur Tukel, spent time with his cast at the lanes as did "Below Dreams" director Garrett Bradley—the New Orleans-based director is making her feature film debut with a film she brilliantly cast off Craigslist.
Full interview with both directors will be up on Backstage.com.
Looking to be SAG-AFTRA eligible? Learn about the basics of joining here!