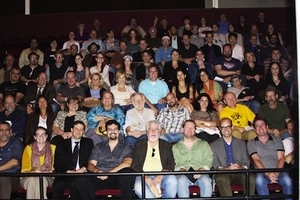 The Los Angeles theater community is a step closer to forming an umbrella organization that would coordinate outreach efforts for its full range of theaters.
The Theatrical Producers League of Los Angeles (TPLLA) Intimate and Midsize, two separate organizations that were officially formed last summer, have merged and organizers say they expect a group of the city's LORT theaters to join shortly.
"This is about about how we can create the best possible experiences for our audiences," Michael Seel, chairman of TPLLA-Intimate, told Backstage. "We've already had meetings about visioning and marketing and branding and talking about what we want L.A. theater to look like in 30 years."
For now the group, which is a historical first in the city, is all-volunteer and operates without a budget, but it could eventually ask for dues from members. Moreover, the Intimate and Midsize groups will retain autonomy within the larger umbrella group. Even if the LORT theaters join, each group will have its own rules and by-laws while the League is headed by a Producer's Board with equal representation from each membership.
"Each entity has to be a separate entity in and of itself because of union negotiations and rules and regulations and other interests that are only commonly shared by, say, midsize theaters," said John Perrin Flynn, artistic director of Rogue Machine Theatre, a member of the Intimate group. "It's supposed to be three organizations that merge under one umbrella organization. Then they'll be three sub-leagues."
There are legal reasons for the loose federation, Flynn explained.
"We want to get in bed with each other on a lot of things, but there are some things we can't get in bed on," he said. "This way we can negotiate separately [with Actors' Equity] but together on things that are of common interest -- working with funders, promoting theater in Los Angeles."