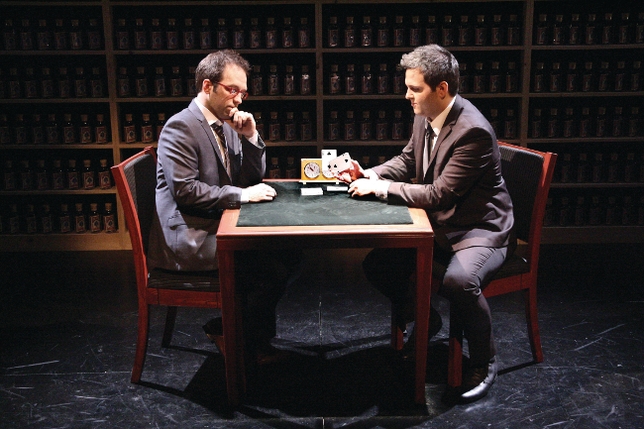 Los Angeles theaters are gaining prestige and exposure for some of their actors by mounting shows in New York, but profits remain elusive.
SoCal theaters ranging from the Geffen Playhouse to the 99-seat Rogue Machine Theatre have recently staged productions in Manhattan. One thing the companies noticed was that the perception of L.A. theater as merely an actor's showcase (as opposed to a cultural venture) has faded.
"I know there was a bias there—'Oh, you're from L.A.'—and some people still think that, but they're idiots. That has changed," said John Pollono, a playwright and actor with Rogue Machine. "I think that there's not that prejudice anymore."
Pollono's play, "Small Engine Repair," is at the tail end of a successful Off-Broadway run at MCC Theater.
Rogue Machine didn't have the budget to mount the play independently in New York—that would have cost between $500,000 and $1 million—so the company partnered with New York City non-profit theater MCC. Although Rogue Machine isn't making money off the New York run, Pollono, who is the only original cast member to travel, said it's been a lucrative opportunity for the performers.
"In New York theater, you sign a contract, you're paid more, it's definitely a higher-level thing," he said. "I can't work on other stuff while I'm doing this, but I've had a ton of casting directors come and I've taken tons of meetings and had a lot of agents inquiring. It's definitely a big, big spotlight as an actor doing a play here."
Part of the reason Los Angeles theaters are gaining national attention is that they've started developing new works, according to John Perrin Flynn, Rogue Machine's artistic director.
"In the past some of the writers felt that it wasn't advantageous to have a production here [in Los Angeles]—and particularly originate here—and I think that has changed," he said. "There's a new sense of L.A. being capable of doing this kind of work, and I certainly am feeling a lot of respect for Rogue Machine."
The Geffen, meanwhile, has seen "The Jacksonian" and the magic show "Nothing to Hide" (both of which it developed) move to New York. The spurt of cross-pollination is a sign of the health of the L.A. theater scene, according to Randall Arney, the Geffen's artistic director.
"For several years now some of the most creative, the most cutting-edge work is being done in Los Angeles," he said. "There's a real sense of the Wild West in the theater scene out here, that people can really follow their artistic impulses and create things that the commercial climate of New York restricts."
These latest productions weren't the first from the Geffen to go to New York. It previously had "Time Stands Still" and the Carrie Fisher solo show "Wishful Drinking" make the crossover. And Arney notes the traffic has gone both ways, with the playhouse currently mounting Bette Midler in "I'll Eat You Last."
"We love that some of the best work we're doing here, New York is taking notice of—that brings less financial [benefit] but certainly raised visibility," Arney said. "It gives great validation to the work we're doing here."