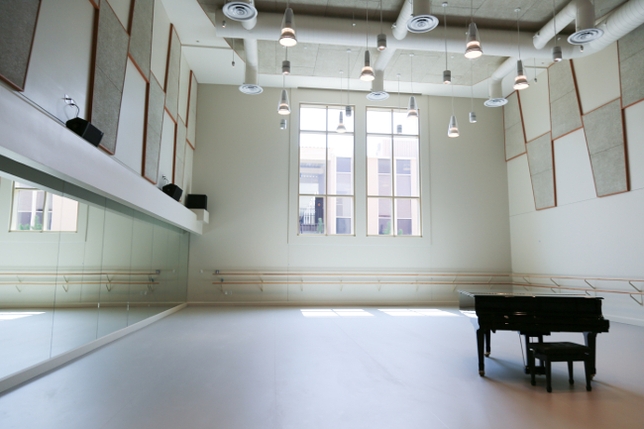 The "New Movement" of dance is about to get a new home in Los Angeles. For dancers looking for a space to express their ballet-, modern-, and hip-hop–inspired talents, consider looking into USC's newly founded Glorya Kaufman International Dance Center, opening in October.
"When we first announced the opening of the school, the question was, 'What should we do?' " Dean Robert Cutietta told Backstage. "That's when I was getting bombarded with calls and emails; everyone had strong opinions. And one of the turning points was when I changed that question to, 'What's needed today in the dance world?' "
The answer boiled down to one skill: an ability to collaborate. As a result, Cutietta and Vice Dean and Director Jodie Gates committed to making choreography as well as performance inherent to the school's curriculum. Students are required to take choreography classes throughout their mandated four years (there is no two-year option); they're also given the opportunity to collaborate with USC's film and music departments to create cinematic works and create scores with other students for their performances.
After welcoming its first class last fall, the school now has its own space built completely from scratch and tailored to the school's hybrid mission. It also has a faculty that includes William Forsythe, Patrick Corbin, and Gates, all of the Joffrey Ballet, as well as Saleemah Knight (Broadway's "The Lion King"), Complexions Contemporary Ballet co-founder Desmond Richardson, and others who have danced for everyone from Beyoncé to Jamie Foxx.
Students completing their first year have worked with dancers from the New York City Ballet, the Alvin Ailey Dance Theater, and the Martha Graham Dance Company, and have observed a rehearsal of Fox's dance competition show "So You Think You Can Dance."
READ: "5 Audition Tips From the 'SYTYCD' Judges"
Acceptance is currently capped at 18 students annually, according to Cutietta, and the slim numbers should factor into how students will audition before the Dec. 1 deadline.
"Think to yourself, I'm never going to get in," the dean advised potential applicants who are required to send in an audition video before he or she can be selected for an in-person audition. "Go with that mentality because that takes a lot of the pressure off. You have nothing to lose, so go in and take risks. Don't play it safe."
Cutietta also advised dancers to showcase multiple styles despite having an understandable strength in one concentration. Mastery of more than one discipline is typically unrealistic, he told Backstage, but highlighting the abilities of a ballet dancer in the hip-hop realm, for example, shows versatility and potential for growth.
"Don't be afraid to push your envelope as an artist and give us something different. Being a good ballet dancer is not what's going to get you in," he said. "You can see a great dancer but if they don't understand what [USC Kaufman] is trying to do, it's not the best match."
Stay limber between now and your USC application by checking out our dance audition listings!