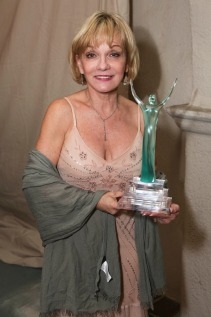 Suburban theaters dominated Los Angeles' top theater honors Nov. 3, claiming Ovation Awards for best season and both categories of best musical.
On a night when the regional companies claimed some of the L.A. STAGE Alliance's top awards, it was fitting that the moveable feast was held at the San Gabriel Mission Playhouse, a nearly century-old venue originally constructed for the performance of the epic "Mission Play."
Orange County-based 3-D Theatricals, which won five awards out of its 15 nominations, took home the statue for best musical for its production of "Parade," while La Mirada Theatre for the Performing Arts, which had 24 nods, won for best season.
"It reminds me of going to the Olympics," said Cathy Rigby, a two-time Olympian whose McCoy Rigby Entertainment presents the shows at La Mirada. "It's so subjective. We got lucky this year. We did have a great season."
La Mirada—whose producing artistic director Brian Kite won the Ovation for director of a musical for "Spring Awakening"—casts exclusively out of Los Angeles with casting director Julia Flores and Tom McCoy taking the lead on auditions, said Rigby, who has spent decades starring in productions of "Peter Pan."
T.J. Dawson, the artistic director of 3-D Theatricals who accepted the best musical award for "Parade," said getting Los Angeles-based actors to drive to Orange County took some convincing. "While the drive always makes people hesitant at first, they end up just having the best time," he said. "It's just about the craft and creating something special together."
3-D starts casting "The Producers" Nov. 11, and that process could draw a wider talent pool after "Parade" won for acting ensemble in a musical. Moreover, the voters also singled out Rufus Bonds Jr., who won for featured actor in a musical, and Jeff Skowron, who won for lead actor in a musical for playing Leo Frank in "Parade."
The Anaheim-based Chance Theater had 11 nominations for the highly acclaimed musical "Triassic Parq." On Sunday, it won for best musical (intimate theatre), musical direction (Taylor Stephenson), and for featured actress in a musical (Kellie Spill).
A debacle last year saw nominations given to individuals and productions that weren't eligible, and this year wasn't without its own snafus. Two winners broke their statuettes on stage to gasps from the audience. And despite effective hosting by Michael McKean, the event's Sunday night scheduling—the ceremony is traditionally held on a Monday—also drew grumbles from performers in ongoing productions who weren't able to attend.
Another constant, though, was the success of Center Theatre Group, which won 12 of the night's 35 awards. The CTG's standout production? "The Nether," which took home a playwriting honor for Jennifer Haley as well as Ovations for scenic, sound, costume and lighting design, and featured actress and actor for Brighid Fleming and Dakin Matthews.
A total of 13 Southern California companies received the peer-judged awards. The full list of winners is below.
BEST SEASON
La Mirada Theatre For The Performing Arts
Boeing Boeing; Jekyll & Hyde; Next to Normal; Seven Brides for Seven Brothers; Spring Awakening
Best Production Of A Play (Intimate Theatre)
Dying City (Rogue Machine)
Best Production Of A Play (Large Theatre)
Joe Turner's Come And Gone (Center Theatre Group)
Best Production Of A Musical (Intimate Theatre)
Triassic Parq - The Musical (The Chance Theater)
Best Production Of A Musical (Large Theatre)
Parade (3-D Theatricals)
Best Presented Production
The Scottsboro Boys (Center Theatre Group)
Acting Ensemble For A Play
The Cast Of Joe Turner's Come And Gone (Center Theatre Group)
Acting Ensemble Of A Musical
The Cast Of Parade (3-D Theatricals)
Choreography
Ameenah Kaplan
The Royale (Center Theatre Group)
Music Direction
Taylor Stephenson
Triassic Parq - The Musical (The Chance Theater )
Book For An Original Musical
Jim Leonard
Bad Apples (Circle X Theatre Company)
Lyrics/Music For An Original Musical
Rob Cairns, Jim Leonard And Beth Thornley
Bad Apples (Circle X Theatre Company)
Playwrighting For An Original Play
Jennifer Haley
The Nether (Center Theatre Group)
Director Of A Musical
Brian Kite
Spring Awakening (La Mirada Theatre For The Performing Arts)
Director Of A Play
Shirley Jo Finney
In The Red And Brown Water (Fountain Theatre)
Lead Actor In A Musical
Jeff Skowron As Leo Frank
Parade (3-D Theatricals)
Lead Actress In A Musical
Beth Malone As Milly
Seven Brides For Seven Brothers (La Mirada Theatre For The Performing Arts)
Lead Actor In A Play
Glynn Turman As Bynum Walker
Joe Turner's Come And Gone (Center Theatre Group)
Lead Actress In A Play
Gigi Bermingham As Maria Callas
Master Class (International City Theatre)
Featured Actor In A Musical
Rufus Bonds, Jr. As Jim Conley
Parade (3-D Theatricals)
Featured Actress In A Musical
Kellie Spill As T-Rex 2
Triassic Parq - The Musical (The Chance Theater)
Featured Actor In A Play
Dakin Matthews As Doyle
The Nether (Center Theatre Group)
Featured Actress In A Play
Brighid Fleming As Iris
The Nether (Center Theatre Group)
Lighting Design (Intimate Theatre)
Jeremy Pivnick
Cassiopeia (The Theatre @ Boston Court)
Lighting Design (Large Theatre)
Christopher Kuhl
The Nether (Center Theatre Group)
Scenic Design (Intimate Theatre)
Tom Walsh
Annapurna (Odyssey Theatre Ensemble)
Scenic Design (Large Theatre)
Adrian Jones
The Nether (Center Theatre Group)
Sound Design (Intimate Theatre)
John Zalewski
Theatre In The Dark (Odyssey Theatre Ensemble)
Sound Design (Large Theatre)
John Zalewski
The Nether (Center Theatre Group)
Costume Design (Intimate Theatre)
Michael Mullen
Dreamgirls (Doma Theatre Company)
Costume Design (Large Theatre)
Alex Jaeger
The Nether (Center Theatre Group: Kirk Douglas Theatre)
Composition For A Play
Michael Redfield
Walking The Tightrope (24th Street Theatre)
Fight Choreography
Ken Merckx
Cymbeline (A Noise Within)
Puppet Design
Derek Lux And Christian Anderson
Shrek The Musical (3-D Theatricals)
Video Design
Jeffrey Elias Teeter
On The Spectrum (Fountain Theatre)