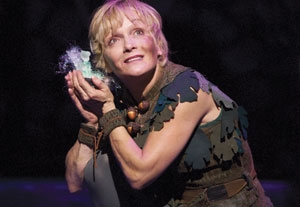 The La Mirada Theatre for the Performing Arts set box office records during its 2011-2012 season, the theater announced this week.

The theater in La Mirada, Calif., earned more than $1.37 million in single ticket sales (those sold to non-subscribers) last season, compared with only about $532,000 the year before.

"It was an exciting year for us," Brian Kite, who has been the theater's producing artistic director since 2008, said in an announcement on the theater's website. "This is not just your grandmother's La Mirada Theatre." He added, "We have been very successful with our social media campaign. It seems to have brought in a younger crowd to add to our other age groups, and our season-ticket holders."

But the biggest boost to La Mirada's financial success this year came from Cathy Rigby, whose touring production of "Peter Pan" closed the season in June. (This was the 60-year-old actor and former Olympic gymnast's fourth time playing Pan, and her first since a "farewell" tour in 2006.) "Peter Pan" became the highest selling show in the 35-year history of the theater, while a spring 2012 production of "Miss Saigon" took second place on La Mirada's all-time list of bestselling productions.

Rigby and her husband are also executive producers of McCoy Rigby Entertainment, which produces the Broadway Series at La Mirada. This year's MRE Broadway Series included "Noises Off," "Life Could Be a Dream," "The 39 Steps," and a special appearance by Debby Boone. Altogether, the 2011-12 series generated record total tickets sales of nearly $2.4 million and brought in more than $25,000 in donations.

"McCoy Rigby continues to provide quality productions along with support from the city," Kite said. The theater is owned and operated by the City of La Mirada.

"La Mirada Theatre has the highest cost recovery ratio of any city department with upwards of 90 percent of its total budget being recovered through ticket sales and other revenues," said La Mirada city manager Tom Robinson. "La Mirada residents can be very proud of the theatre's box office success, which is directly related to the excellent artistic quality of its productions."

Beginning in September, La Mirada's 2012-13 season will include "Jekyll & Hyde," "Winter Wonderettes," "Boeing Boeing," "Seven Brides for Seven Brothers," "Next to Normal," and performances by Shirley MacLaine. Kite said the upcoming season is currently experiencing strong preseason ticket sales and is already "on a pace to beat last season's record."