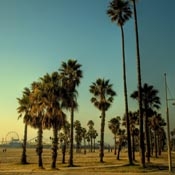 "Welcome to Hollywood! What's your dream?"
These are the famous opening and closing lines of the movie Pretty Woman, and certainly the town of which they speak is the Mecca for fantasy-seekers throughout the world. Although Hollywood is only a small part of Los Angeles, it has become the definitive beacon for all those who hope to work in the entertainment industry. Dreams can come true here with as much ease as they can be shattered. If you are thinking of moving to Los Angeles, or are about to take the plunge westward, be certain that you take the right steps toward making your dream a reality and not a nightmare.
The Decision
As an actor, if you don't live in Los Angeles, you have probably considered it at some point. The initial instinct to move here is often delayed, whether by fear or obligations. You always hear about the preponderance of work available here versus in other cities, but you keep telling yourself, "If I can make it here, I'll make it anywhere" -- in New York or wherever else you may have carved a niche for yourself.
Lowe Taylor of Maryland gave New York a try. "After a year of school, I spent a couple of weeks there and booked a nonunion tour of Little Shop of Horrors," she says. "At the end of my tour, my father recommended that I come to L.A., as it is 'the place for acting.' I always considered myself an East Coast girl, but being impetuous and almost 20, I thought, 'If I am going to do this, now is the time.' " She's been here for seven years.
Marc Jablon, originally from Long Island, N.Y., received his MFA in acting from the University of Washington in 2005. Following graduation, his class had industry showcases in New York and Los Angeles. Four of his 11 classmates landed in New York, often seen as the bastion for "serious" actors, but Jablon had a different idea. "For some reason I was finally drawn to the idea of trying to make it in the business here," he says of his showcase visit. "I chose to move to L.A. because I came to a point where I found myself most marketable for television and film. New York was home, and going back would've meant probably falling into old patterns, and I didn't want that."
It is incredibly difficult to sever the ties you have built up around you, but once you have done it, you are free. Says Portland, Ore., native Nora Jesse, "I often fantasized about living in L.A., but I didn't see moving here as a true possibility until about four years ago. I had re-evaluated my life and realized I wasn't getting any younger or happier. It was time for a major change, and I figured, Why not pursue my passion? It's that thing where if you never try it, you'll always wonder what would or could have happened."
Rashaan Harper of San Francisco felt similarly. "I started to think I might die in an office, and this forced me to think, 'If I could do anything, what would it be?' " Within months, she had packed up her car and headed south. Even more instinctive was Lou Briggs, who -- after living in Chicago, New York, and Las Vegas -- woke up one day in November wanting to move to Los Angeles. He arrived Dec. 1. "Much later I remembered that in May, a tarot-card reader in Vegas told me I would move," he recalls. "I guess it was in the cards."
Most others are not so comfortable with leaving such big decisions to fate. Jamie Hall of North Carolina says, jokingly, "I first considered moving to L.A. when I graduated film school. However, I waited five years so that I could ride the coattails of my overachieving film-school friends." Jesse spent a year bolstering herself for her trip down the coast, saying, "I'm not a huge risk-taker by nature, so I wanted everything in order before I took the plunge."
The Preparation
Indeed, there are many points to consider prior to the realization of your Southern California dreams. Although Brad Pitt may have arrived with only $300 and the car he was driving, not all of us are blessed with his talents and gene pool. It will certainly be a more comfortable transition if you make more-solid arrangements.
Most people will tell you that you need a car to get around Los Angeles, although there are actors who have mastered the public transportation system. As a 30-minute trip can easily become two hours on the bus, and actors are often required in the far reaches of the city on a moment's notice, this is not a recommended plan. No excuses should bar the advance of your career. Unfortunately for the environment and L.A.'s famous traffic, managing this town car-free is only recommended for those who are incredibly patient and autophobic.
All the actors we spoke with packed up their cars and drove their belongings to their new Tinseltown homes. If you can keep the things you move to this minimum, this is a great way to go, as shipping items or renting moving trucks is very expensive. Or, there is nothing as exciting as buying a one-way ticket on an airline, most of which will transport a surprising amount of luggage. For only a $50 surcharge on an overweight trunk, you can move much of your stuff clear across the country.
If you can buy or lease a new car, that's your best option. A new car removes the question of a vehicle's past. Even when you get a used car checked out by a mechanic, some flaws may escape detection. If possible, buy a used car from a friend or trusted source, or get a certified used car that is still under warranty with the dealership. If your finances will not allow such an expenditure, investigate your seller and prospective vehicle as thoroughly as possible. It is a frustrating truth that buying a used car is as risky as attempting to be an actor.
The Location
Finding a place to live is also of paramount importance. Upon arrival, you could rent a hotel room while you look for your new residence, but this may be an expensive and unpleasant option. Having a comfortable base from which you can scope out various neighborhoods will make the experience less harrowing. Jesse and Hall made their sight-unseen arrangements via Craigslist.org. "It's the best invention ever," says Jesse. A wisely thrifty mindset allowed her to find a special situation. "I bartered housework for cheap rent in a nice house," she says. Hall, on the other hand, arranged a one-month sublet. This allowed him to find a more suitable homestead upon arrival. He and a friend "drove down every street searching for the perfect house." Briggs did the same. "I found Beachwood Drive. It looked like a street I would want to live on," he says. "There was an apartment building that advertised furnished singles. It was one room with a tiny kitchen, a bathroom, and a closet." Hall agrees, "We also used Westside Rentals, but we discovered that the best stuff had 'For Rent' signs on it."
Taylor sings the praises of Westside Rentals too, and of finding a place in advance of your arrival. Like Briggs, she visited Los Angeles about a month before her move. "I came out on my own for a weekend to scope out some places," she says. "I ended up taking a room in a nice condo in Studio City. I really lucked out."
Another lucky way to settle in Los Angeles is to bunk with someone who has already done so. Ask friends if they are willing to open their hearts and homes to host you while you find a place of your own. Jablon made arrangements through the alumni association of his school and moved into the guesthouse of a fellow graduate. Says Harper, "I stayed at my then-boyfriend's itty-bitty studio for eight weeks until he asked me kindly to 'please leave.' " If you stay with others, always be mindful of whether you are wearing out your welcome, and do your best to be a respectful housemate.
The Money Thing
Because it is unlikely that you will immediately be signed to a contract role when you disembark in Los Angeles, you need to consider how you will be earning a living. Jesse gave a lot of thought to her financial situation. "I took that year following my decision to move to pay off my debts and save as much money as I could," she says. "By the time I left Portland, I had enough money to pay rent and live comfortably for six to nine months without a job." Our other actors had also saved in the neighborhood of $3,000. This allowed them a safety cushion, to spend time settling in or in case alternative employment did not come easy.
In Los Angeles you will find that connections are everything, and that is what Taylor used to find herself a job. "I had a friend that I worked with at a restaurant in Maryland whose son was working at a famous seafood restaurant in Beverly Hills," she recalls. "I interviewed when I came out to look at apartments and got the job, so I was all set to start the week after I arrived."
Others waited until they got here before they pounded the pavement. Briggs used the personal approach as well, getting a job through a priest he met at a church social. Many used Craigslist to find their positions, in either the service industry or flexible office environments. Jesse found temp companies to be the most helpful for her situation, as do many actors. With temping, you can design your schedule around acting work that you may get, and perhaps you'll be as fortunate as Jesse. "They knew I was doing the acting thing, and since I was a good worker, they eventually offered me a permanent position with flexibility for time off,' " she says of her employers.
Indeed, the Los Angeles job market understands that there are thousands of actors who need flexible employment. The arrangement often works well for both parties, but be certain to make your needs known to a potential employer beforehand to avoid future uncomfortable situations.
The Craft
Before arriving, be respectful of the craft. "If you don't know the basics, like how to get headshots and auditions or how to submit to agents, for Pete's sake, do your homework before you come," Jesse wisely exhorts. "When I had a solid résumé and felt confident enough to pursue acting as a career, I decided to move." Culling credits prior to arrival is a smart choice, as is having a reel of your material. In a market where so many actors vie for each role, an actor with experience is bound to rise above the fray.
Of course, this being an unpredictable industry, anything could happen. Harper admits that before her arrival, her prep consisted of reading Breaking Into Acting for Dummies; she had never taken a class. But she vowed to work on her career every single day. "Once I arrived in L.A., I signed up with LA Casting, Actors Access [two popular casting websites], improv class, scene study class, and did extra work for the first time," she says. "I chose a headshot photographer and set up an appointment with him, and built a website stating I was an actor." Sometimes it can be just that easy; Harper's work paid off with a role as Emily Rhine on the MTV show Connected.
The onscreen world that Los Angeles offers often represents a new set of skills for transplanted actors. "I have been doing theatre since I was about 10 years old," says Taylor. But she admits, "As far as film and TV are concerned, I knew nothing. So after I arrived in L.A., I just started taking classes and getting to know other actors. Through those connections, I have begun to build a really nice résumé and discover a totally different side of the art."
Background work can be a great way for the cinematic newbie to learn his or her way around a set while making some money. Many actors are also able to get their Screen Actors Guild cards by working as extras, or background actors. Central Casting places the background actors for most Los Angeles film and television projects, and registering to work with this service is a wise and inexpensive undertaking.
The People
Don't let preconceived notions of Angelenos cloud your vision. "I was surprised by the kindness of the people," says Jesse. "I always heard how cutthroat and fake this town can be." Surround yourself with positive people who can be your safety net. Above all, remain positive.
"I love that you are forced to get to know your true self," says Harper, who studied psychology at UCLA. "It seems that here, people are unfinished," concurs Briggs. "They're always working on something, whether it's a career, a relationship, some new self-awareness, some goal not yet achieved. This seeking and searching seems more predominant in people here than elsewhere." The pressure of so many artistic personalities chasing their dreams in one area can be overwhelming at times. It is a difficult journey, one for which Jesse advises you must "be ready emotionally, financially, and professionally."
The groups you surround yourself with will make all the difference. Getting involved in various communities is an important part of grounding your new life in Los Angeles. Your community can come from anywhere. Seek out theatre companies with visions that inspire you. Go through the pages of this publication, and audit classes. This way you can find the class that you respond to best without a major commitment of precious time and money. You may also find like-minded individuals at a gym or place of worship.
The Life
Our actors all had a lot of advice to offer the prospective transplant. "You will have tough times and easy times," says Briggs. "If you're not making mistakes, you're not making any progress. Don't bother to compare yourself to others; just believe in yourself."
"If you're prone to jealousy or bitterness, this is probably not the career for you," Jesse agrees. "If you're going to give yourself a time limit to 'make it' in L.A., rethink your decision altogether. Professional acting is a competitive business and should be approached as such. You have to love it enough to put in the work. If you can enjoy the journey, even better."
"Be prepared for anything and everything," says Jablon. "Then when you're done preparing, forget it all, because it will probably go a lot differently than you tried to plan for." Sound complex? That is the conundrum of breaking into the entertainment industry. If worse comes to worse, you can always adopt Hall's simplistic philosophy: "Buy a map, say a prayer, and don't give up."
Jaime Andrews can be reached at email@jaimeandrews.com.