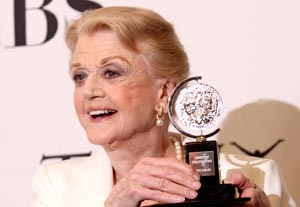 Angela Lansbury, the reigning doyenne of the Broadway stage, won her fifth Tony Award tonight for her role in "Blithe Spirit," tying the record for actors, first held by Julie Harris.
"Who would have thought? Who knew, who knew that this time in my life I should be presented with this award," Lansbury, 83, said. "I'm deeply grateful. I can't believe I'm standing here. … I am the essence of gratitude. This is the greatest gift in my old age that I could possibly imagine. Thank you for having me back."
Lansbury's previous victories were for Mame (1966), Dear World (1969), Gypsy (1975), and Sweeny Todd (1979). Harris won for I Am a Camera (1952), The Lark (1956), Forty Carats (1969), The Last of Mrs. Lincoln (1973), and The Belle of Amherst (1977).