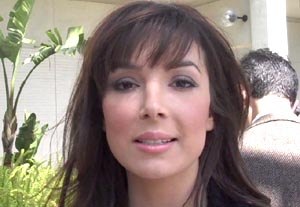 Actors flocked to Newport Beach's Island Hotel April 16 for a special edition of Back Stage Actorfest—a day of networking, conversation, and up-close-and-personal time with industry pros. The event also marked the kickoff for NALIP 10: A Decade of Influence, a weekend-long event organized by the National Association of Latino Independent Producers. This is the second year Back Stage and NALIP have joined forces to bring media opportunities to the Latino community.
"The objective is to create a platform for Latino talent to have an opportunity to get some guidance," said conference director Octavio Marin. "Out of this event, some of them will get representation, maybe some work. So basically we're providing the platform of professional development so they can advance their careers."
A wide variety of casting executives and talent reps were on hand to meet with the actors in attendance. "We got over 220 actors," said Marin. "We could have had more, but we try to make sure that everybody sees everybody."
Check out a special Actorfest video version of "Ask a Pro."
Casting director Mark Teschner, whose credits include the long-running soap
General Hospital
, enjoyed interacting with a wide variety of budding thespians. "It's been a lot of fun," said Teschner. "I've been able to meet a lot of actors in a short amount of time. It's a great chance for me to meet people that I have not had the opportunity to meet, and that's ultimately what casting's all about."
Janice Tanaka of Fox Diversity Development echoed this sentiment. "[We met] everyone from beginning actors to people who are well-seasoned—we met one guy who's been on
24
, who's been on
Prison Break
," she said. "I always enjoy the NALIP conference in general, but the Actorfest we did last year as well as this year really did bring new faces to our casting people."
In addition to the meetings with casting directors and talent reps, attendees also had the chance to hear from successful Latino thespians Wilson Cruz (
He's Just Not That Into You, My So-Called Life
) and Danny Arroyo (
24, Spring Breakdown
), who appeared on a panel moderated by Screen Actors Guild Affirmative Action and Diversity Department senior manager Shoshana Vogel. "It's very nice to see a house full of Latino actors," Cruz said, shortly after taking the stage. "A rare occasion, and I love it."
Later, Cruz offered inspiring words of wisdom: "Do not be limited by only going out for roles that are specifically written for Latinos. My career was built on and has forever been kept alive by the fact that I have looked at and gone in for roles that were written for white and black and Asian characters. Just because they're written that way doesn't necessarily mean that they have to be that, and you have to break down that door to get in the door."
The actors in attendance found the event helpful in a variety of ways. Los Angeles-based actor Jose Roldan said being able to converse with different casting directors gave him more confidence going forward in his career. "They were very open, very willing to answer any question that you might have had," he said. "It felt really good."
Jennifer Fernandez, another Los Angeles-based actor, said the event gave her a better idea of how to market herself. "Just be yourself and don't overdo it," she said. "You could see the people who were interested in you: They would ask more questions. It's a good mix, which is what's out there in the real world: Some give you feedback, some don't, some want to help. That's a great experience to have."