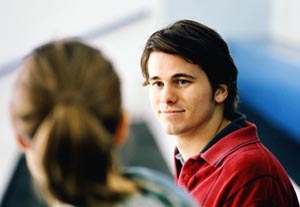 As the 2009 Toronto Film Festival closed up shop last week, a handful of lucky films left with distribution deals. Others, like Drew Barrymore's directorial debut, "Whip It," arrived at the fest with distribution already in place, hoping to build buzz and potential awards-season opportunities. And, of course, many filmmakers departed Canadian soil with nothing more than gift-lounge swag and a few screenings under their belts.
Though this all sounds like business as usual, the film festival circuit has undergone slow yet significant shifts over the past few years. "It does seem like [festivals are] becoming more of an isolated, internal bubble," said actor Jason Ritter, who attended this year's Sundance as one of the stars of the upcoming "Peter and Vandy" and did the festival rounds with 2008's "Good Dick," out on DVD this month. "There used to be a nice kind of flow between the independent film world and the [Hollywood] world. There were a couple years where I guess they overpaid for a couple independent films and didn't make their money back, so they've all of a sudden started to be very wary of picking up films to distribute."
Indeed, while big-name fests such as Toronto and Sundance are still viewed as major industry events, they don't necessarily spark the film-buying frenzies they have in the past—like, say, Sundance 2007, when Weinstein Co. gobbled up offbeat features like "Dedication" and "Grace Is Gone," only to see them fizzle at the box office. And as the crippled economy leads to belt-tightening industrywide, Hollywood in general seems more interested in churning out surefire hits than in finding and nurturing festival-friendly indie fare.
But a reduced Hollywood presence isn't necessarily a bad thing: It's giving some festivals the chance to go back to their roots as passionate celebrations of the moviegoing experience. "There are 4,000 or 5,000 festivals around the world, and at the end of the day, all but three or four are cultural events for their community," said Jonathan Wolf, executive vice president of the Independent Film & Television Alliance and managing director of the American Film Market. "What I think we're starting to see now—partly because of the pullback in production, partly because sanity has come to business expenses, partly because of the reduced resources some festivals have as sponsors pull back—is the industry use festivals more for what they had traditionally been, which was promoting the cinema experience to the consumer."
So although 2010 may end up being a slow year for acquisitions at fests like Sundance, that doesn't mean the events have lost their relevance. In a way, the lack of glitz makes them more important than ever when it comes to the indie movie scene. "There are so many independent films being made, and it's getting harder and harder to get them out there," said Ritter. "For a lot of films, the festivals are the only places that people are going to see the film at all. They're one of the last forums for this kind of movie in a time where cinemas are being overtaken by blockbuster hits."
Scratch That Niche
Film journalist Pete Hammond, who writes for the Los Angeles Times film site The Envelope, noted that the festivals can become a form of distribution. "An actor can really go on the circuit for an entire year on a movie and it's like getting your movie opened," he said. "You're playing city after city; you're traveling with the movie. The state of independent film distribution is so sorry right now, [festivals have] become a distribution network for so many films and a lifeline for so many movies that wouldn't be seen otherwise."
And it's not just the likes of Toronto that provide this sort of opportunity; an abundance of smaller, niche festivals have popped up in the past few years, meaning it shouldn't be too difficult to find one that fits your project. Actor-writer Kaily Smith, for instance, brought her Web series "MERRIme" (merrime.com) to the 2009 Independent Television Festival, where it nabbed the best comedy TV pilot award. The show has also secured a spot at the New York Television Festival, which runs through Sept. 26.
"We're really lucky to be in a day and age where we have the Internet and these smaller festivals as a platform for our creativity and our work," Smith said. "A lot of people I'm sure in the past have felt like, 'Oh, I really want to do this short, but it's not going to go anywhere,' or 'It's a waste of my time to act in this project because it's never going to do anything except maybe be on my TV at home.' Now there are so many opportunities for other people to see the work and to meet other people who are being as creative as you. It gives actors the exposure, it gives them the experience, and it gives them an excuse to do it."
And for Smith, the festival exposure has led to other things: At ITV, she had the opportunity to meet and pitch network executives from Fox, Sony, and Lionsgate. "And as an actress it's been great because a few people saw my work and liked it, and now I'm getting some meetings from it," she said. "I had a meeting with a casting director that's moved on to a few other things."
Work the Scene
So how can actors best take advantage of the festival circuit and experience? If you're traveling to multiple fests with a film, said Hammond, you should utilize the PR opportunities in local markets. "Making these personal appearances, you're going to get a lot of the local press, because the film festivals are really localized events," he said. "They're pumping up the town's economy, and all the local media's out there. You can do local TV and stuff like that and get exposure that way."
And don't forget to make the most of the networking and résumé-building opportunities festivals provide. "For my agent and manager, of course every time the movies are in festivals or I'm nominated for an acting award, it's a piece of information they can use to help pitch me to casting directors and producers," said actor Henry Dittman, who recently made the festival rounds with the indie flicks "Boppin' at the Glue Factory" and "Lost Everything."
Additionally, Dittman advises using the festival experience to detach from the business a bit. "There's something I get from the smaller festivals that I haven't found anywhere else in my journey as an actor," he said. "It involves meeting and discussing my work with cinephiles who are detached from the business I live and work in every day. It's difficult for me as an actor to detach ego from what I do; it's easy to look at each victory as a professional and see the ways in which it's 'not enough.' I've never felt that at a small film festival; the people you talk to are genuinely in love with movies, want to talk about acting, how you prepared for the role, where the title came from, what else you've done."
In that vein, remember that your film isn't the only one screening: Festivals provide ample opportunity to view up-and-coming filmmakers' work—and to interact with those filmmakers one-on-one. "You can easily go to a festival and just be obsessed with your own film and try to get every single person to see it," said Ritter. "If everyone's doing that, then everyone just sees their own film and goes home. If you say, 'Well, I want to keep my schedule open to see what happens,' oftentimes two hours will go by and you could've seen an incredible movie and listened to a brave new director talk about how they got their movie together. And then if you really like a film, you can go up to them afterwards and just tell them—and if you have a film there, tell them about your film. It's all about sharing."