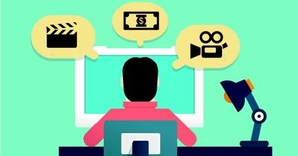 Are you ready to produce your own acting work?
Backstage is bringing you the producer of an award-winning Web series to teach you all you need to know about creating and producing your own work and putting it on film. The upcoming webinar "How to Produce a Web Series" promises to help you get your project up and running by giving you the inside track from an expert in the genre. The webinar will be taught by Miriam Pultro, the writer-director-producer of the Web series "Mythos."
Whether you are an actor that wants to create their own work, a writer that wants to see their words produced, or a producer that wants to work on the Web, knowing ahead of time what is involved in producing your project can save you time and money! Digital video has revolutionized the way we can create TV and films. We can now produce high-quality projects for a fraction of the cost of shooting on film. Furthermore, digital is easier to edit and cheaper to reproduce. This means that producing a full production might be more reasonable than you realize.
Since this is a webinar, anyone can attend remotely from their computer from anywhere in the world. But that's not even the best part: Everyone who signs up will be sent a link to the video copy of the event so that they can view it any time they want, even if they can't view the live broadcast.
The live webinar will be held June 11, and more details can be found here!
Inspired by this post? Check out our Now Streaming articles!