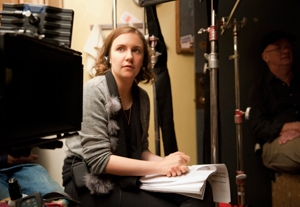 When the Emmy nominations were announced this year, it wasn't a total surprise that "Girls" star Lena Dunham scored an acting nod for her love-it-or-hate-it HBO comedy. But few could have predicted she would actually walk away with three nominations. In addition to the lead actress in a comedy nom, Dunham earned nods for writing the series pilot and directing the 10th episode, "She Did." Perhaps no one was more surprised than Dunham herself, who told the New York Times, "I was literally screaming, all around my house, onto my bed, down the hallway, outside my house, on the phone with everyone I know. I just was doing a big scream-fest."

But multiple nominations don't always guarantee wins—just ask Dunham's HBO counterpart Larry David, who has never won an Emmy for producing, directing, writing and starring in "Curb Your Enthusiasm," despite multiple acting and producing nods. Or David Lynch, who scored a then-record five nominations in 1990 for "Twin Peaks" and still went home empty-handed. Perhaps the ultimate example is Louis C.K., who last year earned four nominations with no wins. This year, he broke Lynch's record by earning seven nominations. The jury's still out on that one.

But Dunham has a sweeter, more Emmy-friendly persona than famous curmudgeons David and C.K., and voters do love an ingénue. Her show has endured its fair share of criticism, mostly about the lack of ethnic diversity, and Dunham herself has been dismissed as having an advantage in the industry because her parents are supposedly well-known artists most people have never heard of. But Dunham's best defense has been her work, which speaks for itself.

So what are her odds of winning one, two, or even three Emmys on the big night? It's hard to say. Though directing categories often like to reward new shows, Dunham finds her show up against two episodes of the wildly popular "Modern Family," the likely winner. In the writing category, there is strong competition from episodes of "Louie," "Parks and Recreation," and "Community"—three shows continually praised for their scripts. So her best shot probably lies in the acting category, where she's up against six very talented actors. Four of them have already won Emmys, but it might be time to infuse some new blood in the category. And while Zooey Deschanel is also a first-time nominee, she's a well-established presence in entertainment. With so many people to choose from, voters just might gravitate towards the biggest unknown.