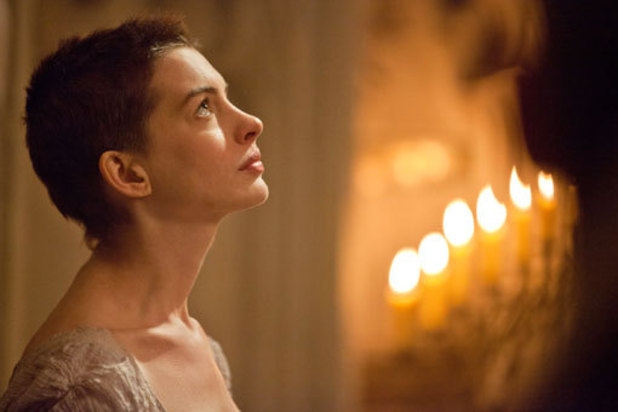 Welcome to October, friends! You know, the time of year when we're so keyed up about Broadway that we consider having our paychecks direct-deposited into the Shubert/Nederlander/Jujamcyn accounts? Well, that's what usually happens, at least. This year? Not so much.
We've been having a little trouble getting ourselves worked up about the fall season this year, as it turns out. Can't imagine why. With yet another "Cyrano" revival, Paul Rudd killing some people (Why, Josh, WHY?), a musical about dogs and children, an Ibsen play about political corruption, and a show about cheerleaders, everything just seemed so promising! Oh, wait…
Things got even worse after "Rebecca" – the one show that was guaranteed to give us something to snark about – evaporated as quickly as its nonexistent producers and their nonexistent money. So what's a bored-to-death theater fangirl to do? Turn to the movies, that's what. Thus, for our first column, let's all have a serious talk about cinema. Because believe it or not, that's where the theater gossip is these days.
If you don't know about the "Les Misérables" movie-musical that will be imposing itself on movie theaters across the universe this winter, kindly extract yourself from the 10-ton rock you've been hiding under, and listen up. Because this is a movie that even your mom cares about. As well she should, considering she put up with you singing "On My Own" in your bedroom at top volume for the entirety of your teen years, plus the summers you were home from college, too. And, you know, it's starring a celeb or 12.
Turns out that the promotional hoopla for this film will go far beyond moody, aggressively airbrushed posters, the occasional poorly-sung-but-damn-if-you-aren't-crying trailer, and leaked photos of Aaron Tveit in his cocker spaniel wig. Our sources are telling us that some of the film's stars are in talks to perform in the London stage version of the show around the time of the film's release. The list of performers is still being finalized, but we've heard that the adorably frecktacular Eddie Redmayne, and Aaron 'Solar-Plexus-of-Steel' Tveit will once again lower themselves to do the eight-show-a-week grind for at least... you know... a couple of weeks. Or as long as their voices hold out, whichever comes first. If her flail-y nonperformance on this year's Tony Awards was any indication, we're thinking that the lovely Amanda Seyfried won't make the cut, but you never know.
We've also heard tell of plans for a one-night-only concert staging of the musical starring the film's cast, including Wolverine himself, Hugh Jackman. We definitely need another one of those, right? Because the "Les Misérables" 10thand 25th anniversary concerts for sure haven't monopolized enough of our collective lives already.
You know what's definitely happening though? Anne Hathaway's Joe's Pub gig, which is slated for next week. Now, don't get us wrong. We adore that Anne is a full-on theater nerd at heart, and that despite big screen stardom, she actively seeks out opportunities to perform live on stage. But what on earth was she thinking with this? Anne Hathaway starring in a one-woman cabaret show – you know, pop songs, showtunes, stories about her crazy ex – sounds charming. But a one-woman performance of THE MUSICAL "Cabaret"? As in like, the Kander and Ebb show about Nazi Germany wherein Anne sings all of the songs? That's… le crazy. Whoever crossed those wires, intentionally or not, has us scratching our heads.
Not that it much matters, though, because the tickets are a gazillion dollars, and we can't afford them anyway. Too bad, because rumor has it her "Les Mis" costar, the aforementioned adorableness that is Eddie Redmayne, is being shipped across the Atlantic with the sole purpose of joining her for a few tunes. We're thinking he's going to play Cliff, but that doesn't stop our hearts from hoping that they'll rouge his nipples and make him the Emcee, too. Ah, a girl can dream.
Blind Item of the Week: Taking a show on the road is a tough slog for stage actors, but we know of one handsome performer in the national tour of a big musical who's being compensated handsomely for his troubles, to say the least. Like, so handsomely that, in a single week, he rakes in more dough than your average entry-level theater publicist, or kindergarten teacher, or city cop makes in a whole year. Who says there's no money in stage work? Not this guy, we assure you.
Laura Motta and Aileen McKenna blog as Lucky and The Mick on their Broadway-themed blog of insanity, The Craptacular.