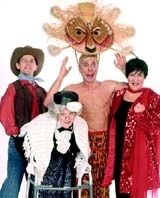 For this year's annual spotlight on singing and music, Back Stage takes a look at an amazing number of musicals -- 38 in all -- that are either currently running, about to be running, or announced to be running soon on and Off-Broadway, with an eye toward filling you in on what you need to know in order to get cast in one of them. (The dance show "Movin' Out" is not included because, with the exception of one performer, has no vocal requirements.)
Vocal requirements, character types, age ranges, musical sensibilities, how to comport yourself properly at an audition, and many other helpful hints are offered by casting directors, musical directors, and other creative personnel involved with each show. Current info on audition scheduling is also included. Remember that, if nothing is immediately scheduled, Equity does require that semi-annual chorus calls and annual calls for principal auditions be held for all Broadway musicals. And most shows maintain ongoing casting files and schedule auditions whenever replacements are needed. So don't forget to check Back Stage every week to find out who is casting what -- and when.
Forbidden Broadway: 20th Anniversary Celebration
Off-Broadway Opening: Feb. 25, 1982
The producers hold casting calls about every two months.
Surprisingly, the longest running show Off-Broadway is also the most up to date. Gerard Alessandrini's brilliant musical satire of The Great White Way has succeeded for so long partly due to the fact that it is constantly being revised. As smash hits come and go, "Forbidden Broadway" is there to spoof them every step of the way, then makes way for the next crop of big shows to come along.
It all started as a cabaret show at Palsson's Supper Club 21 years ago, remembers Alessandrini. "It was located at 72nd and Broadway. If you think back to 1982, Midtown's theatre district was so depressed that people were very happy to get out of there and see theatre somewhere else. But nowadays, most everybody wants to see shows in the theatre district." And that's right where "Forbidden Broadway" has landed after playing at a few interim NYC venues (as well as Boston, L.A., Chicago, and even Tokyo). Audiences can now catch them on Theatre Row at the Douglas Fairbanks Theatre.
"Forbidden" features four performers who do a variety of familiar stage characters over the evening, which often springboards them into roles in legit shows just like the ones they are spoofing. Due to the high turnover, Alessandrini and company are always looking for fresh talent. "This can be a very good showcase. Often our performers will get other offers while doing the show, and they leave. So we're constantly auditioning."
Alessandrini looks for several key traits when finding performers who can handle two-dozen roles a night.
"The first thing is, they have to have a strong voice. Doing all those different roles, they have to have a very versatile and strong instrument. They also need to be funny. I don't know if an actor can be taught to be funny, or if it's just inherent, but it's something you can just sort of tell right away."
Another major requirement is a knack for performing the various styles of musical theatre. "I don't mean doing imitations, because that you can always somewhat teach somebody. It's more about having enough knowledge of musicals. Our show covers everything from opera and Richard Rodgers to 'Rent' and 'Mamma Mia!' What they really need is a good sense of history of musical theatre, and a lot of experience doing these different kinds of shows. If they only do pop singing, or if they only do the traditional type of signing, they're not going to be able to do 'Forbidden Broadway.' They really have to be able to go back and forth."
The producer has no problem seeing nonunion and youthful performers, and often remembers them for future openings. "It's like we have a little casting agency of our own. We're very good about keeping people on file, and calling them back. Bryan Batt auditioned for the show in the '90s, and he was too young at the time. But we kept his picture and kept tabs on him while he was doing 'Cats' and 'Jeffrey,' and when he came back, he knew exactly how to do our show."
-- Elias Stimac
Les Miserables
Broadway Opening: March 12, 1987
The Broadway production of "Les Miserables" will close March 15. The touring company will continue to June and go out again in the fall. Casting director Jamibeth Margolis accepts resumes on an ongoing basis c/o Cameron Mackintosh, Inc.
For Dale Reiling, musical supervisor of "Les Miserables," what catches his eye is someone who can really connect to the material and make it sound personal. " 'Les Miz' is populated with people. What we really want is people to bring their own personal experiences to the character."
There is no need to prepare monologues for an audition. Singing material from the show is reserved for the callback. Casting director Jamibeth Margolis recommends people sing musical theatre pieces in the style of the show, which in the case of "Les Miserables" is contemporary musical theatre. "We ask them to choose music that they feel really shows off their voice, their range, their acting." Performers should, however, prepare full songs for auditions arranged by appointment. "Because that is what 'Les Miz' is about," says Reiling. "It's telling a story. We tend not to like those short, 32-bar cuttings of a song because you ultimately leave out steps in the storytelling."
While finding the right vocal type is important, so is finding somebody who is the embodiment of the character. Non-traditional casting, as in the role of Eponine, opens the role up to a wide range.
In looking at resumes, training and experience are important, but Reiling prefers using it more as an aid. "Sometimes, especially in an open call or for someone who we've never seen before, it might just tell us some information that might not be readily apparent in the audition," says Reiling.
To prepare for an audition, Margolis stresses people should come with more music in their books in case they're asked to sing additional songs. "Preparation means having your music well presented for the accompanist so that you're not standing at the piano for ages explaining it. You're going to have it all laid out nicely in a binder so it doesn't fall off the piano. Know exactly what you're going to sing, so you can show that you're a good musician all the way around."
As to mistakes performers might make at an audition, Reiling feels that sometimes a performer's anxiety and self-doubt can lead him or her to overcompensate. "It's very difficult to audition in New York," says Reiling. "Everybody's a good singer. You have to stand outside in the hall and you get to listen to everybody sing -- and it can kind of freak you out. It can, if you let it, call you off your mark. You start to think, 'I have to go in there now and sing louder, bigger, better, fuller, with a better belt or a better mix than the person did before.' Ultimately, that's not what it's about. But that's human nature more than a huge mistake."
-- Grace Yen
The Phantom of the Opera
Broadway Opening: Jan. 26, 1988.
Auditions were just held the third week of January. Casting director Jamibeth Margolis accepts resumes on an ongoing basis c/o Cameron Mackintosh, Inc. There is no touring company out.
One of the experiences of working on a long-running production is the opportunity to see many performers return over the years to try again for a spot in the show.
In casting "The Phantom of the Opera," Kristen Blodgette, the associate musical supervisor, has seen people who have previously auditioned return several times over the past 15 years -- and it is not something she discourages. "I honor that, and respect that they have the tenacity to come back. It's wonderful to see how people have grown over this period of time." Casting director Jamibeth Margolis can attest to that as well. "I have so many stories of people who have auditioned for our shows, over the years, three or four times, and then get in the show. There is value in being persistent."
For singers to audition, "Phantom" seeks legit musical theatre performers who will be asked to read sides. Blodgette advises performers to come in with a good up-tune and a good ballad prepared. Not only should they bring their books, but have ready a wide array of excerpts of material to demonstrate vocal type and personality. "Sometimes they come in and have chosen something just brilliant and perfect for the audition, and then we'll think, 'Hmmm, who are they really?' And what do they have that's completely different than that and might be totally inappropriate for our show, but will show us a little bit of who they are."
Learning something new for a specific audition is not advisable, says Blodgette. "I think they should really sing something that is very comfortable for them and that they like. I think it is audible and visible if they like what they're doing -- and that makes a big difference. If they're learning something new and come in singing it for the first time, I think that it is dangerous. Some people can pull it off, but I'm not convinced that it's doable."
How they relate to other people in the room is also an important factor. For Blodgette, most specifically, it's the rapport between the accompanist and auditionee. "I think that it's crucial because that relationship gives us a window into what you are like to work with. If ever the auditionee doesn't think [the accompanist] did the best job playing the material, depending on how they handle that, that's sort of an important moment to see what [the auditionee] is like."
But what is also important to Blodgette is making the audition process a less stressful one for the performer. "It doesn't matter if someone forgets the lyric in the middle of the song, or if they crack on the final high note. I don't care a wit. Usually, I go back and say, 'Do you want to do that high note again?' because I don't ever want anyone to leave feeling anything but good about the way they just walked into a room. It's very important to me. This business is discouraging enough without going into auditions coming away feeling like less than when you walked in."
-- Grace Yen
BackStage.com Members: To read the rest of this helpful and informative feature, please click here.
Not a member yet? Click here for information on how to receive all the benefits of BackStage.com.