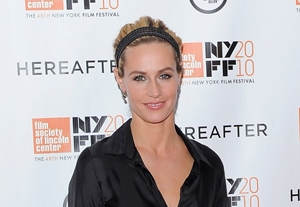 Clint Eastwood's "Hereafter" marks a shift into uncharted territory for the director. Departing from his usual thrillers, crime dramas, and small-scale human-interest stories, this sprawling new film spans three countries in telling the tales of troubled American factory worker and psychic George Lonegan (Matt Damon); grieving London youngster Marcus (Frankie McLaren), whose twin brother is killed in a car accident; and high-profile Parisian reporter Marie LeLay (
Cécile de France
), who starts to question the possibility of an afterlife after she is almost killed in a tsunami. Though the three are literally worlds apart, their search to understand what happens after death brings them together.
This is only the second non-French film for de France, who is from Belgium and has won a César Award, the Gallic equivalent of the Oscar. The first was the adventure comedy "Around the World in 80 Days," with Jackie Chan and Steve Coogan. In "Hereafter," she delivers a strong performance, demonstrating her talent for a wider audience. Back Stage spoke to her about the film, working with Eastwood, and her opinion on the next life.
Back Stage:
How did you get involved with "
Hereafter
"?
Cécile de France:
Clint Eastwood wanted a French speaker, because the character is French. So I did an audition with the casting director in Paris with two scenes from the film. It's weird because usually you have to do two rounds and then you have to meet the director, but because Clint Eastwood trusts his casting directors—he trusts everyone—he just saw me, and two weeks after, I received his answer.
Back Stage:
So Clint Eastwood cast you without actually meeting you?
De France:
Yeah. He just saw me on the video and that's it.
Back Stage:
How was it working with Clint Eastwood?
De France:
In France he's like God. He is the favorite director of a lot of actors, so I was the happiest person in the world when I received positive word from him. And I wasn't disappointed, because it was a wonderful experience working with him on the set. He's completely in the present. He really lives his work and his life enjoying being in the present, and he really transmits that to you and to all the members of the crew. I think the most beautiful thing was that he trusted me, as he trusts all the members of his crew. He trusted me so much, and he gave me a lot of freedom. Because he is an actor too, he knows that you know your job. It was also the first time I shot with a director who only does one take.
Back Stage:
For a lot of scenes you shot only one take?
De France:
Sometimes he would even just shoot the rehearsal and that was all. I really love that, because I'm from theater and I'm used to being prepared. On the stage it's one take too. You can't say, "Sorry, people, that was no good. Can we do it again?" It's a challenge and it's a good sensation, and that's also why I love my job, because of that kind of sensation. Clint Eastwood is also very open-minded, and if you ask for another take, he'll say, "Yeah, sure." It's not like he says, "It's only one take; I want to go home." I was so happy to be near Clint Eastwood, I really enjoyed the shooting.
Back Stage
: How did you prepare for the role?
De France:
I really enjoyed pretending to be a journalist; that was easy. The other part, about near-death experience, I never thought about that before working on this film, so I was very curious to jump into the subject. I read a lot of Elisabeth Kübler-Ross and Dr. Moody's books. It was very exciting to read all of the different testimonies about near-death experience, to see how they are very close to each other and how they talk about the same things. It's very interesting to see that nothing is proven and that there are no satisfactory explanations, and it's funny to see how science rejects the idea of life after death and considers it more a sign of schizophrenia or psychosis. It's a battle, and some well-known scientists work on this and lose credibility, just like my character. So it was very interesting to jump into the subject, and I'm still very curious to see how our beliefs evolve.
Back Stage:
What's the difference between working in French cinema and working on Hollywood films?
De France:
For me, it's not really different. It's all about a relationship between a director and an actor, and it all depends on the person, not the nationality. For example, in "Around the World in 80 Days," there were great sets, a lot of extras, beautiful costumes, and I was very impressed because it was Hollywood. But with this one, it was a low-budget film, so I didn't really feel the difference. As I said before, it's more about the person; it's more about the way of directing. The difference is more about the relationships between people.
Back Stage:
What's your opinion on life after death? 

De France:
It's difficult to have an opinion because, for me, death is a part of life. It's more about accepting that there are mysteries and staying open to any kind of experience. It's very personal when you live this kind of experience, because it's very strong inside of yourself. You really need to live a paranormal experience personally to have an opinion, and it's never happened to me.