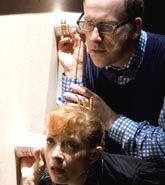 When Rebecca Cohen joined LAByrinth Theater Company in 1997, she was an actor. Today she is a playwright, in part because the company encouraged her to spread her wings. "I imagine I may want to go back to acting at some point, but now I feel calmer as a writer," Cohen says. "I'm divorced, I have a child, and I need to be home as a mom. It's cathartic for me to sit home and write."
Her most recent play, Penalties & Interest, a dark comedy about office life, is being produced at the Public Theater as part of the Public LAB series, an initiative jointly conceived by the two companies. Penalties & Interest is the sixth play in the series' inaugural season, and, like its predecessors, it's getting a bare-bones production with limited rehearsal time. But writers have the chance to see their work come to fruition. Penalties & Interest runs through June 28.
Headed by artistic director John Ortiz, co-artistic director Philip Seymour Hoffman, and co-artistic director and executive director John Gould Rubin, LAByrinth is a multicultural collective — it was launched as a theatrical home for Latino actors — that has produced 50 new American plays, including The Little Flower of East Orange, Our Lady of 121st Street, Jesus Hopped the 'A' Train, and A View From 151st Street. The company has received, among other honors, 12 Drama Desk Award nominations, eight Lucille Lortel Award nominations, an Olivier Award nomination, and the 2002 Jujamcyn Theaters Award for outstanding contribution to the development of creative talent for the theatre. A tightly knit ensemble, LAByrinth has more than 100 lifelong members, many of whom came on board through a recommendation. "Years ago we got in if we clicked with each other," says Cohen. "It was a smaller company and more grass-roots. Now it's larger and more formal. If we need an actor, we may look outside the company. If we like a playwright, we might bring him in."
In the lobby of the Public and between rehearsals, Back Stage chatted with Rubin, who directed Penalties & Interest, and the play's five actors to find out something about their working methods and how they've evolved as artists. Cohen, who spoke on the phone at a later point, was unable to participate. The actors are Julian Acosta, Elizabeth Canavan, Yetta Gottesman, Craig "muMs" Grant, and Michael Puzzo. They have been members of LAByrinth between two and 15 years.
Back Stage: How has your experience with the company changed your life? Changed you artistically?
Elizabeth Canavan: I probably wouldn't be acting without the LAB. I moved to New York to pursue acting, but it's so difficult. You feel so alone. I don't feel alone at the LAB. All my best friends are in this company.
Yetta Gottesman: I'm a member of the Actors Studio, but I wanted a family and I found it at the LAB, and that's what changed me artistically: knowing that I can go away, not come to meetings for five or six months, and I can come back and no one will judge me. I will be embraced. Also, I grew up in Puerto Rico, and this place feels Latin and warm to me. Even the actors who are not Latin are Latin.
Craig "muMs" Grant: After being on the TV show Oz for two years, I probably would have given up acting. I had never thought of being an actor anyway. I'm a poet and thought about being a performance artist. I got the part on Oz because they were looking for a poet. The LAB made me fall in love with acting and the stage.
Julian Acosta: Whether we're doing knee puppet theatre or a Pulitzer Prize-winning play, everybody is willing to do everything. And that has made me a better actor. It's given me the impetus to show up and think about what I can give rather than what I can take or what's going to be given to me.
Michael Puzzo: I would not be an actor if it were not for the LAB. I was at the point where I was about to give up. I think that's true for a lot of us. These are all my friends. So even if we were not working together, we'd be playing together. We're in each others' lives.
Back Stage: How would you define the company's aesthetic?
John Gould Rubin: We're identified with gritty, urban plays. This show is stylistically different from what we've done before — it's a comedy, inspired by TV sketches — but I don't think we have an aesthetic. It's a developmental program.
Acosta: I don't think we have any one subject or style in our plays. But we all kick ass. The company is populated by talented individuals who are committed to a level of excellence, committed like a pit bull with a T-bone steak.
Back Stage: How do you work? Do you have a unified creative process?
Canavan: We all have different processes.
Acosta: What we have in common is that we leave cynicism at the door. At the Intensives [LAByrinth's yearly two-week retreat for members], which are where our plays begin, it's a sacred process. Anyone can say what's no good and what doesn't work. We don't do that. We dive in.
Back Stage: What were the challenges in this play?
Puzzo: We have 10 rehearsals, and that's terrifying, but what makes it okay is that we can lean on each other. Also, it's a very difficult play and it goes to some really deep, intense places, and the stakes are high.
Gottesman: But once you accept the world of the play and feel free to break the rules, it makes it easier.
Acosta: It's a dark comedy with a lot of absurdity. You can't pre-plan it. The hard part is playing it. Keep what's good and get rid of the crap.
Grant: It's the limited time and the over-the-top comedy that shifts to a very dark place. That's a bit of a challenge.
Canavan: It's an emotional roller coaster, and in a way we're rehearsing in front of the audience. So the challenge is to allow ourselves the freedom to explore in front of an audience.
Rubin: My challenge as the director is to come up with an idea that's right for the play and then convey it to the actors so it's not something they have to learn. It has to be there.
Back Stage: How has working with the LAB informed your work in gigs outside the company?
Rubin: Because the company is focused on acting, I've become more focused on the acting. I have loftier standards about acting. I'm not as casual about it. And though I always felt an audience should be emotionally as well as intellectually engaged, my convictions have been enhanced by the LAB.
Grant: What we do here is often raw and ugly. We can bring audiences to tears. That's given me theatre chops.
Acosta: It's given me a level of commitment.
Gottesman: Camaraderie and the ability to leave my ego at the door.
Back Stage: I assume you all have day jobs.
Gottesman: I'm a temp.
Canavan: I run a nonprofit writers' group.
Grant: I don't have a day job.
Acosta: I don't have a day job, but I aspire to own a fleet of ice cream trucks.
[Laughter]
Puzzo: I wait tables and I recently got my real estate seller's license. I wish I could say writing was my other day job, but it's not.
Back Stage: Are you writing something?
Puzzo: Yes. John Ortiz and [LAB playwright] Stephen Adly Guirgis urged me to write. I secretly wanted to write but was afraid I'd suck. But one rainy day at the 2000 Summer Intensive when I had nothing to do, I began to write a play. John said we'll do a reading of it on Friday. That forced me to finish it. They did the reading and the play, The Dirty Talk, was developed at the LAB, performed at the [New York International] Fringe [Festival] in 2005, and then Off-Off-Broadway at the beginning of 2007. And it was just published by the Dramatists Play Service.
Canavan: I have three plays in development at the LAB's Barn Series [a formal reading series of plays in progress, open and free to the public].
Grant: I think about writing. I don't want to pay my bills with acting. I want to act out of love.
Back Stage: How do you juggle other gigs, day jobs, and LAB rehearsals?
Acosta: The LAB is the most important thing we do. Everything else is juggled around that.
Back Stage: Where do you want to be in five years?
Acosta: I'll be writing a screenplay and a play and will have sold a TV show. I'll be three and a half years into a series, shooting a film, and doing a play with the LAB.
Grant: I want to be producing, writing, and acting for fun. I want to feel free to turn down roles. Last year I did a movie for money, a movie I'm ashamed of. No, I won't tell you what it was.
Gottesman: I want to be working with writers and actors that inspire me, regardless of the medium. I want it all: maybe a loving relationship, maybe a bouncing baby.
Grant: A Porsche?
Gottesman: No, a vintage Mercedes.
Canavan: I want to be doing more film, TV, and theatre and still working with my friends at the LAB.
Puzzo: In five years I want someone to say to me, "You once sold real estate? You once waited tables?" I want to be able to pay my Con Ed and Time Warner bills from acting and writing, not selling calamari to tourists.
Rubin: In five years I want to see the LAB doing the classics. We started the company in a spirit of rebellion. That energy is still there. We'd revolutionize Shakespeare.