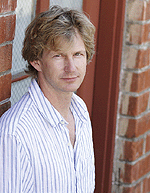 "I want to live on a cot backstage," jokes Bill Brochtrup during a break from rehearsal of Richard Kramer's Theater District. "I want to be in a dorm and go into a room to rehearse and go to the cafeteria next door to eat and then go back and rehearse some more. I want to think about nothing else but the play. I get crazy like that. Everything else in my life is a distraction."
Brochtrup fondly remembers his time working in a stock company in New Hampshire before his many years playing John Irvin on the enduring TV series NYPD Blue. "That's exactly how it was there. It was like a big scene shop, and we would rehearse one show all day and perform another at night. We were totally immersed in our work. We hung out with only one another and talked incessantly about the work. We complained a lot and drank a lot. It was a wonderful summer."
He agreed to appear in the West Coast premiere of Theater District, currently playing through June 27 at the Black Dahlia Theatre, for several reasons, not the least of which is being on hiatus before starting NYPD's final season. "Theatre is where I started," he explains. "I take every opportunity to go back whenever I can. Theatre led me to television, which I know people say never happens in this town, but take my word, it did for me." NYPD's producer Steven Bochco saw Brochtrup performing in Joe Pintauro's Raft of the Medusa at the Zephyr, brought him in to read for the series, and the rest is history. "So of course I'm committed first and foremost to NYPD Blue," Brochtrup admits. "Steven has been so good to me. He's kept me employed for the last 10 years, and I'm fiercely loyal in return. I'm still always looking to do a play, but it's hard to find one that fits into the relatively short window we have between seasons."
Brochtrup has been involved with Theater District from the beginning. "We began with a staged reading. I never say no to readings. You hear new things, and what's the downside? A couple of hours. While shooting NYPD Blue, I can't commit to anything except readings, because our schedule changes a lot. Thankfully this piece fit perfectly into my time off. And I've known Richard for a long time. He's a phenomenal writer."
Although Brochtrup now plays a leading role in Theater District, at that first reading he played Mario, a smaller character. "When Matt Shakman, our director, called me about doing George in this production, I was thrilled. I'd heard nothing but praise for Matt and for his theatre. They did that amazing production of Orson's Shadow there [in 2001], and Matt gets the rights to some pretty incredible things," says Brochtrup. The Dahlia most recently presented the local premiere of Adam Rapp's Nocturne and Geraldine Hughes' Belfast Blues, which won 2003 Ovation, Garland, and L.A. Drama Critics Circle awards. Theater District fit right into the unique mold insisted upon by Shakman, founder and artistic director of the Dahlia. Kramer's play is a funny and bittersweet account of a teenager trying desperately to connect with his distant father while building a stronger bond with his dad's warm yet acerbic male lover, played by Brochtrup. It premiered at Steppenwolf in 2002, and the Emmy-winning writer (whose television work includes writing and producing thirtysomething, the first Tales of the City miniseries, My So-Called Life, and Once and Again) won Chicago's prestigious Jefferson Award for Best New Play for his piece.
When Brochtrup went to meet Shakman and see the Dahlia for the first time, he thought, "Oh, dear, this is small." Says the actor, "I've done a lot of waiver theatre in this town, and still the size of it was a surprise. But Matt and I talked for several hours, and he was so enthusiastic, which I appreciated immediately. Many times, young people in his position are, kind of, you know, sort of too cool, which I'm not very fond of. Matt has none of that. He was genuinely excited about Richard's play and prepared to talk about how he was going to stage it in this little space. There was no way I could have said no.
"Theatre in L.A. can be really hard," the actor admits. "You're working for just about free and helping in every way you can to get the play noticed. Keeping it open can be difficult. With Raft of the Medusa, we all kind of pitched in and begged everyone we knew to come. Aside from the work, we had mailing parties and did our own version of publicity. It was exhausting. Then doing When Memory Serves, by Jonathan Tolin, at Pasadena Playhouse a few years ago, it was like, 'Oh, we have a greenroom and bathrooms and stuff. We don't have to all pee by 7:30 before they open the house and then when the show's over, we don't have to sweep up.' Also, frankly, I'm a bit obsessive when I work. I go a little mad when I'm rehearsing for a play. It was hard to think of jumping back into that again, but this was such an incredible piece, and Matt was so positive. Other TV actors do a film or go on vacation when they're on hiatus, but all I ever want to do is a play. Then when I do agree to one, there's so much work to be done."
Unlike his days in summer stock, Brochtrup finds working on a 99-Seat play in L.A. also becomes frustrating when he has to leave the process. "I'm so lucky to have my series," he says. "Other people have day jobs and auditions for paying jobs to get in the way. Josh Breslow, this great kid playing the son, is still in high school, so he's at rehearsals studying for his calculus exam and reading Herman Melville between scenes and planning for his prom. On NYPD, we're there so much of the time, and we can afford to make it our whole focus without distraction. Right now, I'm having work done on my home, so I stagger home from rehearsal at midnight and get jarred awake at 6:30 with the painter sandblasting the outside of the house. I think, 'I don't care about all this. I just want to be at rehearsal working on George.' Everything else interrupts. I'm afraid I'm the nervous type and I always want more."
Shakman sees Brochtrup's work differently. "Bill is a godsend," he says. "He's a wonderful actor, extremely hardworking and prepared, a joy to work with every single day. He cares deeply about the production, about the theatre, about his fellow actors. It's a challenging play. At first glance it seems like kitchen-sink realism but quickly becomes something quite different, changing locations rapidly, breaking the fourth wall, playing with time, etc. The world I'm trying to create onstage is as sophisticated as the lives of the characters. Not hyper-realistic. Hi-Gloss. Clean lines. Theatrical." Thankfully for Shakman, no one gets the idea better than the gifted guy he cast as George.
Brochtrup gets away from it all walking the hills around his home with his script in hand, studying his lines, absorbing himself in his character. Sometimes that's the only way to get into a role when doing waiver work in L.A., he believes. "Because of all our schedules, we never really even had a first read-through," he says. "The first day, there were only a couple of us there, and we just jumped right into a scene. Maybe that was for the best. In a way, first read-throughs are deceiving. They're always great. You think, 'Oh, my God, everyone is perfectly cast. Every joke is funny. What do we need rehearsals for? Let's just go!' Then you take it apart and put it back together, and the old doubts begin to sink in.
"We spent the first week doing table work, getting used to the 'group five will be these scenes and these actors, group seven will be this' kind of thing," he laments. "It gets so confusing. Suddenly you think, 'This is a mess, and I have no idea what I'm doing.' The whole thing seems to be how we can we put it back to how it was the first day.
"I probably take it too seriously," he says, laughing. "I came home the other night and said to my partner, 'I'm such a bad actor. I truly think I'm a terrible actor. Maybe everyone who's ever cast me is just stupid. I must have just gotten by all this time on my charm.' Tony looked at me with a completely straight face and said, 'That can't be it--you aren't that charming.'" BSW
"Theater District" will be presented by and at the Black Dahlia Theatre, 5453 W. Pico Blvd., L.A. Wed.-Sat. 8 p.m., Sun. 7 p.m. May 22-June 27.$20. (866) 468-3399.