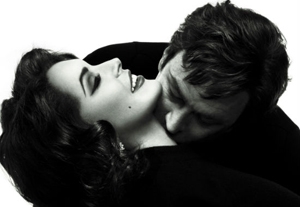 Even from beyond the grave, Elizabeth Taylor is still fodder for scandal.
Union officials are increasingly concerned about working conditions on the Los Angeles-area set of the Lifetime movie "Liz & Dick," a film about the relationship between Taylor and Richard Burton.
Lindsay Lohan, who's starring as Elizabeth Taylor, was treated for exhaustion last week. The arrival of paramedics at her Los Angeles-area hotel room caused a media frenzy and prompted the actress's camp to put out a statement explaining her condition stemmed from the production's "grueling schedule." Lohan later complained on Twitter of having to work 85 hours in four days.  
Lohan's publicized bout with exhaustion wasn't the only issue on set. Two crew members working on the TV movie were reportedly hospitalized.
This has led two Hollywood unions to start examining working conditions on the set.
"We have thoroughly investigated this matter and our business representatives have visited, and will continue to visit, the set of 'Liz & Dick,'" said a spokesperson for SAG-AFTRA, which represents the actors in the production.
"We have spoken with representatives from the company and they are fully aware of their contractual obligations. We will ensure that all applicable penalties will be paid."
In order to meet tight deadlines, film and television productions frequently violate the union rule that requires 12-hour rest periods between call times. If that happens, they're required to pay a penalty.
Lifetime didn't respond to a request for comment. But the movie's producer, Larry Thompson, told the AP that no rule violations had occurred and that the SAG-AFTRA representative on set "was totally fine with everything." SAG-AFTRA said it's still reviewing the matter.
Meanwhile, IATSE, the union that represents behind-the-camera crew, said it has begun looking into working conditions on the production.
"We have had union representatives on the set since last Friday [June 15] and will continue to monitor the hours and working conditions there," Mike Miller, division director of motion picture and television production for the IATSE, said in a statement.
"We take very seriously the safety and well-being of our crews, and are dedicated to seeing that they are protected from hazardous working conditions."