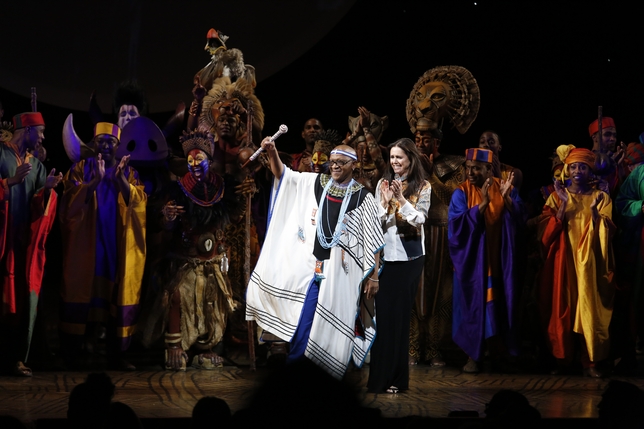 It's been 15 years since Simba first mounted Broadway's Pride Rock, and the cast and creative team took the occasion to celebration the anniversary on Sunday.
"I must admit, I did think it'll be difficult for this one to be transferred to stage," Oscar- and Tony-winning composer Tim Rice told Backstage. "And I was worried it might be a bit like 'Cats'—nothing wrong with 'Cats'—I was worried that it would look like a copy of 'Cats.' But of course, Julie [Taymor] did a great job and a very original interpretation."
One of the appeals of the long-running show is the fantastic puppets and masks, and puppet designer Michael Curry shared with Backstage how he works with performers to creat the charcter.
"I start with the actors," Curry said. "I'm a little different than most puppet designers in that I use puppets as an extentions of the actor. It's very important to never lose the actor. For me, I put as little on them as I need to. I really try to make this, with Julie, a very minimalist approach to it so it's really the actor who's selling the song and not the puppets."
Many of the creative team members, including Rice, were involved with the film as well. South African composer Lebo M., who wrote many of the African melodies for the film and musical, attended the celebration. Bookwriters Roger Allers and Irene Mecchi, who co-directed and co-wrote the film respectively, were honored to be included in the production, and offered some wise words for actors.
"Our involvement with 'The Lion King' for stage all happened because we went to lunch with Julie Taymor and Thomas Schumacher," Mecchi said. "So if anybody asks you to lunch to talk about a project, go."