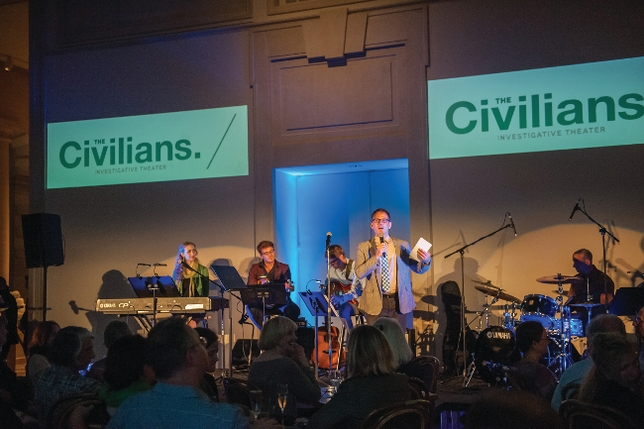 Meandering through the magnificent European sculpture garden at the Metropolitan Museum of Art, a visitor might not expect to stumble across an actor portraying a heavily Botoxed porn star. On Sept. 12–13, art enthusiasts witnessed just that during "Let Me Ascertain You," an evening of stories and songs from New York's foremost investigative theater company, the Civilians. The event was the group's first performance as the Met's 2014–15 performing artists in residence.
"We came up with a bunch of ideas and then we went for it," said Steve Cosson, artistic director of the forward-thinking company and the evening's emcee. After being approached by Limor Tomer, the Met's general manager of concerts and lectures, Cosson began thinking about how the Civilians' dramatic material might interact with the museum's vast array of artifacts. "[Tomer] was interested in performances that can tease out the different narratives that are present and embedded in the collection of the Met," he said. "She thought that our approach to creating theater could be very copacetic with what she wanted to do."
Introducing an element of live storytelling—particularly whimsical, genuinely curious storytelling—to the Petrie Court Café's stately surroundings contextualized and enhanced those narratives. In addition to inviting curators to deliver minilectures on some of the pieces in the Met's galleries, Cosson selected performances from the Civilians' cabaret series at Joe's Pub and their "Let Me Ascertain You" podcast. The material developed there draws mostly from interviews with real-life people. "[We] craft them into monologues and in some cases give them to a composer who might turn them into a song," said Cosson of the company's approach. "And then the material can just live in another way."
The Civilians' socially conscious work has probed everything from pornography in the San Fernando Valley to a beauty pageant in a Bogotá women's prison. For Cosson, theater is a powerful reactive force. "We did a whole series of cabarets about Occupy when that happened," he said. "It afforded us the ability to do interviews about something that was happening right in the present and very soon after do a show about it." Performers within the group engage in what Cosson called "shot-out-of-the-cannon acting." By giving voice to actual interviews, often verbatim, actors embody real people without much preparation or direction. "There is this authenticity that is built into the words and the ideas. This person just shows up. And it is something like an act of channeling."
The group's stint at the Met continues in March with "The End and the Beginning," a show centering on the theme of death and dying. For Cosson, an audience of museumgoers has shed new light on the Civilians' ongoing development. "It was definitely a different audience than what we're used to at Joe's Pub," he said. When live performance collides and melds with ancient treasures, new discoveries thrive. "That's part of the magic of how it happens, that leap into the unknown."
Inspired by this post? Check out our audition listings!