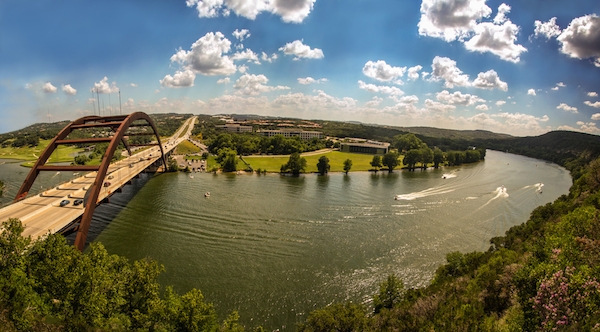 In recent decades the population of Austin, Texas, has exploded almost as much as its craving for groundbreaking theater. Thanks to booming tech and entertainment industries, there is a higher demand for art than there are arts organizations producing it. If you're an actor who marches to the beat of your own drum, pack up your wildest artistic impulse and take it to Austin.
"Austin has grown so much and so fast," says Nathan Jerkins, associate artistic director of Penfold Theatre Company. "We need more places to produce, so if you can't find it, you make it." Many artists refer to Austin as a "maker's town," a breeding ground for emerging talent with a distinctly offbeat charm. Much like its renowned music scene, the city's theaters—from the eccentric devised work of the Rude Mechanicals to ZACH Theatre, the state's oldest continuously operating company—are fueled by a youthful, entrepreneurial energy. Many burgeoning artists find creative outlets in the city's parks, warehouses, and bar basements.
ZACH Associate Artistic Director Abe Reybold says Austin provides something for all tastes and temperaments. "There are traditional companies producing classic and contemporary plays, musicals, and new work, as well as adventurous groups who are creating their own brand of theater," he says.
Mark Pickell, artistic director of Capital T Theatre Company, points out how advantageous that is for actors both young and old. Wandering 20-somethings looking for inspiration can pursue the kinds of projects that can't be easily produced in cities like New York or Los Angeles. "And anyone who is 30-plus could get cast very easily in Austin, just because we have a lot of the younger actor demographics covered." No matter your age, it's easy to make artistic investments in this diverse cultural metropolis and see the returns. As Pickell says, "If you want to set up shop, it's pretty inviting."
It's also affordable. In a town of youthful up-and-comers, many of whom are passing through for a few months or years at a time, companies are less interested in traditional subscription models and more into the idea that theater should be accessible to all. Many have sliding scale ticketing policies and even offer pay-what-you-can Thursdays.
The Rude Mechanicals' shows are so laid-back, in fact, that they often include an optional donation box beside their beer kegs and wine bottles, to which audiences are welcome. Capital T puts on shows in Hyde Park Theatre, a cramped 1920s post office converted into a performance venue. "There's so much of it that makes it not a great space," Pickell says with a laugh. "But people love it. It's not an elite experience."
That informal, innovative approach is what makes the city's unofficial motto—"Keep Austin Weird"—ring true. Trouble Puppet Theatre Company's roster of shows includes an adult puppeteer rendition of Upton Sinclair's "The Jungle." Allison Orr's "The Trash Project," an intricately choreographed ballet with the city's Sanitation Department workers, has been produced multiple times to great acclaim. Outside-the-box theatricality is a key characteristic of a city that values artistic fulfillment above commercial success. As Reybold says, "Austin is a place where you can try different things and be supported by all types of artists and curious audiences alike."
Despite its rapid growth, Austin remains a tight-knit community of collaborators. "It is still small enough where you can get to know and work with most everybody, bit by bit," says Jerkins. "It still feels like family." Because of the cross-pollinating nature of theater companies big and small, as well as the constantly shifting talent pool, actors who are new to the scene have the potential to make a big splash. "If you're talented and you move to Austin," says Pickell, "you'll get noticed very quickly."
So how does an incoming actor help keep Austin weird? "See as much local theater as you can, meet other artists, get connected and inspired," recommends Reybold. Jerkins agrees: "Go out to see everything, hang out afterward and meet the artists. They'll probably buy you a drink." With such an eclectic variety of offerings in such an accessible and inviting community, there's a particular brand of Austin weird for everyone.
Inspired by this post? Check out our Austin audition listings!