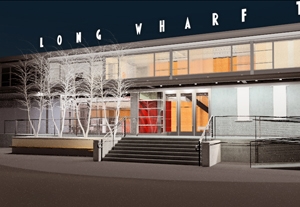 Despite a down economy, several major theater companies have recently received some extreme makeovers.
Acknowledging the need for an upgrade in both comfort and utility, New Haven, Conn.'s
Long Wharf Theatre
has announced a $3.8 million renovation campaign. With designs by Gregg Wies & Gardner Architects, the venerable regional theater, currently in its 47th season, will focus on improving the newly christened Claire Tow Stage in the C. Newton Schenck III Mainstage Theatre.
This renovation will include a new lobby, bathrooms, and bar, as well as more luxurious seating with additional leg room, modernized lighting instruments, and better climate control. "The Mainstage had not been substantially renovated in decades," said Steven Scarpa, Long Wharf's director of marketing and communications. "We felt strongly that it was time to invest in the comfort of our patrons. This is a face-lift in which the look of the theater will finally match the excellence on the stage."
Long Wharf has raised approximately $2.56 million, nearly 70 percent of its goal (the industry standard to go public is about 50 percent on a renovation campaign such as this one, according to Scarpa), which includes the Tow Foundation's leadership gift of $1.25 million. "Long Wharf Theatre is an essential and vital part of New Haven's cultural arts community.
The Tow Foundation
is pleased to support the launch of this exciting moment in the theater's history," said Emily Tow Jackson, president and executive director of the Tow Foundation, in a statement.
Long Wharf isn't the only theater of renown to undergo a major recent overhaul. In January, New York City's
Signature Theatre
re-opened at a location on 42nd Street not far from its old home. Now known as the Pershing Square Signature Center thanks to a $25 million gift from the Pershing Square Foundation, the goal was to serve as both a theatrical destination and a communal space, where industry professionals and the public could mingle.
Designed by Frank Gehry, the 70,000-square-foot edifice "features three theaters of different character and configurations, providing playwrights a number of dynamic performance areas in which to set their work," Signature marketing director David Hatkoff said in a statement. Construction began in 2009 on the $66 million project, which will employ more than 400 people a year.
Downtown New York's
Public Theater
has also experienced reconstructive surgery in the form of a four-year renovation to be concluded in the fall. It, too, was funded through a public-private partnership. "Individuals, foundations, corporations, as well as state and local government have all contributed to the project, including an initial $27.5 million provided by the City of New York," Oskar Eustis, artistic director for the Public, said of the $40 million enterprise. "We are working to raise the remaining funds."
The end result will include improved signage, an installation of ramps for improved accessibility, a new lounge on the mezzanine level, the expansion of restroom facilities, and system upgrades that will improve energy efficiency in the 158-year-old structure.
Like the Signature, the Public aims to bridge artist and community. "The revitalization project will physically manifest the company's core values of inclusion and accessibility for artists and audiences by dramatically opening up its landmark building to the street and community," said Eustis, "and transforming the lobby into a public piazza for artists, students, and audiences."