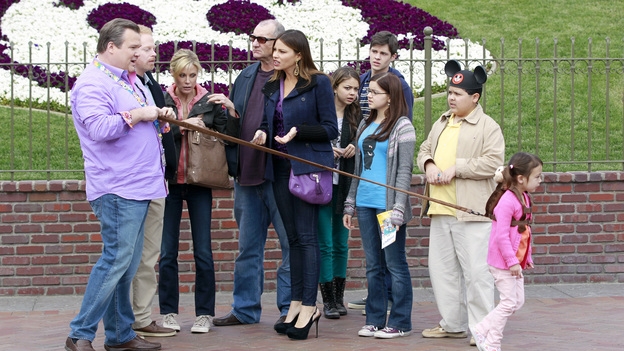 The television medium was made for ensemble players. Rarely, if ever, is a show held together by the performance of just one person. Story arcs can be resolved in a half hour, or stretch out over several seasons. It's not hard to see why so many big names have been drawn to TV of late, whether popping up in a guest appearance or headlining a series.
For the last two years, HBO's "Boardwalk Empire" has taken home the SAG Award for outstanding performance by an ensemble in a drama series. It's sure to be nominated again this year. The cast is essentially a who's who of character greats, from Steve Buscemi to Michael Shannon to Michael Stuhlbarg—the kind of actors other actors just adore. Also likely to earn its second ensemble nod is the company of AMC's groundbreaking series "Breaking Bad." For the first couple of seasons, the show went ignored in the ensemble category and was viewed as Bryan Cranston's show. In the more recent seasons, supporting players such as Aaron Paul and Anna Gunn have started to get recognition for holding their own. Sadly, because his episodes aired before 2012, Giancarlo Esposito's amazing work as drug kingpin Gus Fring will not be included in the ensemble this year.
The remaining three slots are tougher to call. HBO's "Game of Thrones" has its fans, and its sprawling cast rivals network counterpart "Boardwalk Empire." It earned an ensemble nod last year but might be viewed as too niche to make the cut this time around. The same could be said of Showtime's "Dexter"—the cast has been nominated four times and never won. In many ways, it's viewed as a star vehicle for Michael C. Hall, who won the individual prize in 2010. A safer bet is "The Good Wife," the only network show to garner a nomination in this category for 2012. Though Julianna Margulies stars, scene-stealing supporting work is provided by Christine Baranski, Archie Panjabi, and Alan Cumming.
Who are the potential newcomers to the category? With PBS moving its hit "Downton Abbey" from the miniseries–TV movie category, as it did at this year's Emmys, it's likely to get recognition. "The Closer," which has previously been nominated in this category, could get some love for its final season. And as Patrick J. Adams' surprise SAG nomination proved last year, there is a strong fan base for the USA show "Suits." But more likely is FX's "American Horror Story." Though it competed as a miniseries at the Emmys this year, the show submitted Jessica Lange last year for female actor in a drama series—and she won. The eclectic cast has something for everyone, from beloved character actors (James Cromwell) to stage ingénues (Lily Rabe) to exciting new faces (Evan Peters) and even a singer making his acting debut (Adam Levine).
Then there's "Homeland." The Showtime series earned raves and Emmy Awards for stars Damian Lewis and Claire Danes, but the current season is showcasing all the cast in fantastic performances, particularly Mandy Patinkin and Morena Baccarin. Look for it to get the ensemble nod this year—if not the win.
The comedy category is a little easier to call. Last year's nominees included NBC stalwarts "30 Rock" and "The Office," both previous winners, CBS's "The Big Bang Theory," ABC's "Modern Family," and Fox's "Glee." All are likely repeat nominees, with the possible exception of "Glee," whose awards luster has faded over the years. Also vulnerable is "The Office," particularly with the loss of Steve Carell, but there is still a great deal of affection for the remaining employees of Dunder Mifflin.
Who are the potential spoilers? There is clearly a fan base for shows like "Hot in Cleveland," a previous nominee and winner for Betty White, and "Two and a Half Men," which continues to inexplicably win awards. Of the new fall shows, Fox's "The Mindy Project" definitely has a solid ensemble, but freshman series are rarely recognized. One of the best casts on television can be found on ABC's "Suburgatory," but it largely flies under the radar. The biggest threat is likely posed by Fox's "New Girl," now in its second season. The comedy has ably moved from being the Zooey Deschanel Show to showcasing its fantastic cast, particularly Max Greenfield and Jake Johnson. It's a small but flawless ensemble and deserves
the attention.