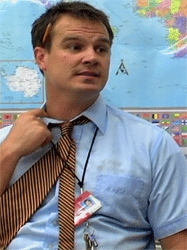 As soon as Mike Akel and Chris Mass began their careers as high school teachers, they knew the experience would someday form the basis of a film. The two friends moved to Austin, Texas, in 1996, and wrote and performed via various mediums: their comedy troupe, Upstairs at Cong Ly's, and the acclaimed short films Robbers and Butcher's 15. But bills needed to be paid, and the pair ended up teaching in the Austin public school system.
"We had to get the real jobs that pay the big money: teaching," quips Mass, who still teaches world geography.
"Totally," chimes in Akel. "That's the most money we've ever made."
"It is," concurs Mass. "Which is kind of sad."
In their teaching lives, Akel and Mass found themselves constantly entertained, amused, and inspired by their fellow teachers and all the frustrations and anxieties that come with the job. Their first feature, Chalk, chronicles a year in the lives of high school teachers; the film is a comedy, but it strives to illuminate the teaching profession in a realistic way. It's shot documentary-style and uses improv rather than a strictly structured script. Akel directed, co-wrote, and produced; Mass co-wrote and stars as one of the teachers.
"I guess what we captured is beautiful in the sense that it looks so real, and these characters are at any job, but especially teaching for some reason," says Mass.
"Anytime we talk to teachers after [screening the film], they're like, 'Oh, we have a teacher just like you or just like so-and-so.' I think just letting [the actors] be themselves and guiding the story captured the realness and brought so much comedy to it."
The film is a big hit on the festival circuit; so far, it's picked up an audience award for best narrative feature at the Cinequest Film Festival, a jury award for best Ensemble acting at the Florida Film Festival, and the grand jury award for best narrative feature at The Independent Film Festival of Boston. It is an official selection of the 2006 Los Angeles Film Festival (June 22–July 2), where it will screen as part of the narrative competition.
Part of the film's success must be credited to its cast: Each actor had a hand in shaping his or her character. Most of the action centers on a quartet of teachers: egocentric Mr. Stroope (Mass), socially inept Mr. Lowrey (Troy Schremmer), officious Coach Webb (Janelle Schremmer), and permanently exhausted Mrs. Reddell (Shannon Haragan). Schremmer, Schremmer, and Haragan were friends of Mass and Akel prior to being cast in the film.
"We always had a real chemistry, comedically; they had loved our last [short] film, and they're huge Waiting for Guffman fans," says Akel.
"So I was like, 'Man, I think this is the time—these guys would be great.'"
Other characters found their way into the film along the way. Another teacher, the meticulous Mr. Guerrero, is played by Jeff Guerrero, who was also the film's second assistant director.
"We needed an extra guy in the teacher lunch [scene], so he's in the first teacher lunch, and I'm sitting behind the monitors, and I'm just dying," remembers Akel.
"This guy puts a little napkin in his shirt, I'm like, 'He is hilarious'...boom, a character was born. And that's how stuff happened: We would just add people as we went."
The end result is a film that hits its comedic marks but still respects the teaching profession. "The Stroope character is a little over the top, and I always start off Q&As by saying, "I'm not really like that in the classroom...'" says Mass. "I wanted to be very honoring to teachers, but not be Mr. Holland's Opus."
"Chalk" screens as part of the Los Angeles Film Festival June 25 & 27, and July 1. For more information, go to www.lafilmfest.com.