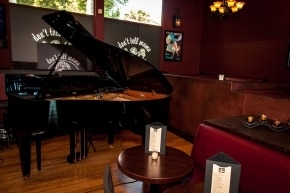 Two weeks after Don't Tell Mama opened its first new location in 30 years in Los Angeles, the musical theater venue parted ways with its artistic director.
The West Coast branch of the famed "way station for people with big dreams" opened its doors Feb. 26. Ryan O'Connor, its artistic director, resigned effective March 12.
O'Connor, who also produces a show at Eleven Nightclub called "Musical Mondays," joined DTMLA in January. But after guiding the venue through its opening he resigned his position, citing artistic differences with the owners and management.
"[M]y vision for what I wanted to accomplish in opening a piano bar in West Hollywood differed from that of the owners and management," he said in an email circulated to friends and colleagues. "Ultimately, my artistic vision was not implemented and I no longer felt it appropriate to keep my name attached.
"I still believe in the need for a piano bar and cabaret venue in West Hollywood and wish them the best of luck."
O'Connor declined further comment.
The New York location is known for its cabaret performances but the Los Angeles branch isn't licensed for those types of shows. For now, it will just be a 187-seat piano bar where the waiters and bartenders take turns performing.
Dan Cox, a spokesman for DTMLA, said O'Connor was an "enormous asset for our opening."
The venue, which has been relying on veteran staff brought in from New York, is also planning on holding a second round of auditions soon for L.A. performers, according to Cox.
"For now, the New York staff is still with us, performing nightly until we have filled the performance and the artistic director positions for L.A.," he said in an email. "We'll announce all the auditions publicly and via our DTMLA Facebook page."