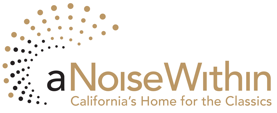 A Noise Within will continue its expansion, with three new grants flooding the coffers of the Los Angeles-area classical repertory theater company.
The company, which in its 2011-12 season moved into a 283-seat theatre in Pasadena, was awarded $175,000 in new grants from the Ralph M. Parsons Foundation, The Rose Hills Foundation and the S. Mark Taper Foundation. Two grants are for operational support and one is for its educational programs.
"When you get support from institutions like these three, it's almost like the 'Good Housekeeping Seal of Approval,'" said Julia Rodriguez-Elliott, ANW's producing artistic director along with Geoff Elliott. "It opens other opportunities for any organization."
The company currently has a six-play season, in addition to producing "A Christmas Carol" during the holidays. That's unlikely to expand, despite the cash infusion. Still, Rodriguez-Elliott said they're in "a period of tremendous growth."
"It really has been the case since we moved into Pasadena," she said. "This support really goes a long way towards continuing to sustain the level of work that we do and deal with the institutional growth of the organization."
Moreover, the money could help the theater raise additional funds, said Rob Hollman, ANW's director of development.
"If they believe in us, more will as well," he said. "The $175,000 will at some point grow over the next several years."