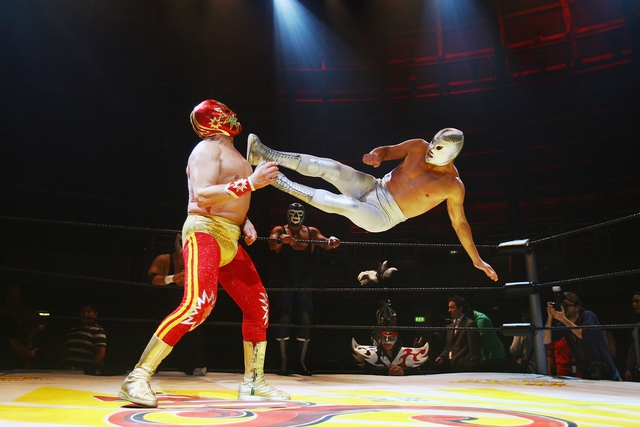 How's your week been? Could it have been better? Let us help. We may not be able to guarantee you smash that audition or win that coveted part, but we can help when it comes to finding what to do in London this coming week!
Fresh air theatre for all.
On the weekend of 24/25 June, London's glittering West End comes out to play in the middle of Trafalgar Square for the annual West End Live event. Casts from hit musicals like "Aladdin," "Dreamgirls," and "School of Rock" will be out in force belting songs for an appreciative open air audience. Bring your singing voice! (Free)
Lycra lovers, unite!
If you're looking for an unusual night out and enjoy the sight of burly men in lycra indulging in physical pantomime, then this is your lucky day. On June 23 and 24, the wrestlers of Lucha Libre will be strutting their stuff at the unlikely location of Bethnal Green's York Hall. Prepare for unprecedented bare-chested theatrics. (Tickets: £20)
Reading your rights.
To mark 50 years since the partial decriminalisation of homosexuality in England and Wales, the National Theatre is hosting a series of rehearsed readings featuring such notables as "Moonlight" Oscar winner Tarell Alvin McCraney and director Stephen Daldry. Held in early July, these tickets are going fast. (Tickets: £15)
Supercalifragilistic-on-a-boat.
Um-diddle-iddle-iddle-um-diddle-ay why not put on your best bonnet and/or chimney sweep's hat and indulge in a truly unique London cinematic experience? On June 21, you can watch Uncle Walt's classic "Mary Poppins" while sailing down the Thames. Mary would no doubt thoroughly approve. (Tickets: £29)
Shake and stir it.
Everyone loves a cocktail but not everyone can make them like mixologist extraordinaire Patrick Coyle. On June 22, Coyle will be hosting a Cocktail Masterclass amidst the hallowed surroundings of Her Majesty The Queen's grocer, Fortnum and Mason. Tips and tipples are free but booking is required. (Tickets: Free)
Check out Backstage's London audition listings!