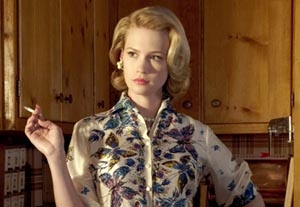 The fifth season of "Mad Men" won't premiere until 2012, AMC announced Tuesday.
"AMC has officially authorized production of season 5 of 'Mad Men,' triggering our option with Lionsgate ('Mad Men's' production company)," reads the statement. "While we are getting a later start than in years past due to ongoing, key non-cast negotiations, 'Mad Men' will be back for a fifth season in early 2012."
"Mad Men" usually begins shooting in late April or early May. And although sources told THR earlier that  Emmy-winning creator Matthew Weiner was close to a lucrative new pact with the Lionsgate, they will need at least several weeks to ramp up.
Two years ago, when Wiener's negotiations with Lionsgate dragged into January, "Mad Men" did not bow until August.
AMC has other options. The network will bow new series "The Killing" April 3. And "Breaking Bad" is slated to for a fourth season premiere in July.
Net execs anticipated the "Mad Men" delay.
In announcing a fifth season pickup for "Mad Men" at last January's Television Critics Association press tour, Joel Stillerman, AMC's senior vice president of original programming said: "'Mad Men' is definitely coming back for Season 5, but don't ask me when, because we're not sure yet."
Joked star John Slattery to THR about the delay in February: "I'm looking for a job."
– The Hollywood Reporter