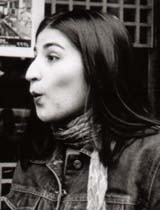 Post-modern romance is in the air for comedy duo Madame Funnypants. In their most successful sketches, Negin Farsad and Alexander Zalben re-imagine classic movie moments -- including the opening sequence from "Scream" -- and poke fun at the bizarre compromises we make in order to find companionship.
In one inventive vignette, a desperate woman is looking for love in all of the wrong places -- most notably Circuit City. She invites her best friend to meet her new boyfriend, a lecherous stereo with a voice reminiscent of John Tesh. Okay, so love is rarely perfect, but a human/boom box make-out session is more than a single female -- or her friends -- should be forced to endure. Is it really that hard to find a guy who won't embarrass you in front of your friends?
Farsad and Zalben's clever "Scream"-inspired sketch confirms how horrifyingly formulaic romantic comedies have become. Like Drew Barrymore's character in the Wes Craven slasher pic, our heroine is harassed by an unseen caller. But this time, he threatens to make a romantic comedy with her in the starring role. Obviously not a "Maid in Manhattan" fan, Farsad reacts to the prospect of a date with a nice guy like a veteran scream queen.
Despite a few uneven sketches at the beginning of "Madame Funnypants vs. Machine," Farsad and Zalben also score with a parody of one of cinema's most used and abused scenes; An anxious young man in a tuxedo interrupts his co-worker's wedding to announce that... he's having problems using Excel and needs her to come back to the office. Modern love doesn't get much funnier then this, well, at least not intentionally.