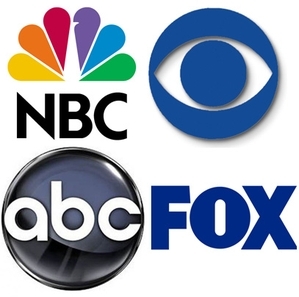 The major television networks are scrambling to cast dozens of new pilots for next season, which means new opportunities for actors. ABC, CBS, NBC, Fox, and the CW are each taking different approaches to their array of drama and comedy projects, so Backstage takes a look at all of the latest developments of this pilot season.
NBC
NBC has ordered 11 comedy pilots so far this season, including "About a Boy," based on the book by Nick Hornby that was adapted into a 2002 film starring Hugh Grant, which will be cast by Cami Patton; "Joe, Joe & Jane," being cast by Jeff Greenberg, about a children's book author who must deal with his needy wife and his best friend/co-author; and "Assistance," about a female assistant who must deal with her demanding boss with the help of her "work husband" and her fiancé, to be cast by Geraldine Leder.
The network has a couple of parenthood-themed comedies including "Donor Party," about a sperm donor who meets the many children he's fathered, and "Girlfriend in a Coma," focused on a woman who wakes up from a coma to discover she has a 17-year-old daughter. The latter will be cast by Junie Lowry-Johnson and Libby Goldstein. There's also "Welcome to the Family," about the culture clash when a white family and a Latino family are bonded together by their children, who fall in love amid an unplanned pregnancy.
Then there's "Holding Patterns," which features a group of friends who survive a plane crash, and "Undateable" featuring a group of friends who lack confidence. The Peacock Network has also placed orders for untitled projects from DJ Nash and Jason Bateman, "SNL" vets Lorne Michaels and John Mulaney, Robert Padnick and Greg Daniels (who is also teamed with Owen Ellickson on another project), and Victor Fresco and Sean Hayes. The latter is about a father, played by Hayes, who must deal with a temperamental new boss as well as his recently moved-in 14-year-old daughter. It's being cast by Brett Greenstein and Collin Daniel of Greenstein/Daniel Casting. Meanwhile, the untitled Padnick/Daniels Project, about a vulnerable 20-something who is encouraged to start dating again by his three friends, is being cast by Julie Ashton.
Another untitled project, from the Cullen brothers, is about a recent divorcee who moves in with her estranged father and reluctantly signs up to coach her son's little league team, awakening long-dormant competitive instincts. It's being cast by Lisa Miller Katz, Backstage has learned.
NBC also has some untitled projects on its drama slate, including pilots from J.J. Abrams and Alfonso Cuaron, and Rand Ravich. Meanwhile, "I Am Victor," a drama pilot described as "House as a divorce attorney," is set to be cast by Amy Lippens and executive produced by Katie Jacobs. There's also "The Sixth Gun"—based on the graphic novel of the same name—and "The Blacklist," about a criminal who turns himself in and offers to give up anyone he's ever worked with … for a price. Finally there's "Bloodline," about a girl orphaned by a family of mercenaries who learns she must find and kill her mother in order to live a normal life. It's being cast by Linda Lowy.

ABC
ABC has given the greenlight to multiple female-character-driven comedies, including "Pulling," a single-camera comedy about three neurotic women in their 30s trying to get their lives together; "How the Hell Am I Normal," which is being billed as a "dysfunctional 'Wonder Years,'" which is being cast by Leslie Litt, and "Mixology," about characters hooking up at a fancy Manhattan night spot. This one is being cast by Wendy O'Brien.
The network also has several drama pilots in the works. "Venice" is a tale of forbidden love set in the titular Los Angeles-area beach town. "S.H.I.E.L.D.," based on the Marvel Comics' fictional law-enforcement and espionage agency led by Nick Fury, comes from "Avengers" screenwriter Joss Whedon and will be cast by Sarah Halley Finn. And "The Returned" is about loved ones returning from the dead in a small Missouri town. The network also has in the works "Betrayal," about a female photographer who begins sleeping with a lawyer for a powerful family.

CBS
CBS is relying on some of its established talents to reinvigorate its 2013-2014 lineup. It's ordered "Mom," a comedy from the "Two and A Half Men" team of Chuck Lorre, Eddie Gorodetsky, and Gemma Baker about an ex-alcoholic single mother living in Napa Valley. Ken Miller and Nikki Valko are set to cast. "Friends With Better Lives," from Dana Klein (who was a producer on NBC's "Friends"), follows a group of 30-something friends who are convinced the other has it better. "Bad Teacher," which is based on the film of the same name, follows a divorcee who becomes a teacher to find her next husband.
The Eye has also ordered comedies "The McCarthys," about a family of fanatical Boston sports fans; "Super Clyde," about a fast food employee who becomes who becomes a super hero; an untitled Greg Garcia Project, about a recently divorced man whose parents move in with him; and an untitled semi-autobiographical comedy pilot based on Jim Gaffigan's life as a standup comic and father of five, which is set to be cast by Marc Hirschfeld. The network also has the off-cycle untitled Rob Greenberg project, which is being cast by Greenstein/Daniel.
For its dramas, the network has an untitled "NCIS: Los Angeles" spinoff that is considered a backdoor pilot, which will be cast by Bluestein/Kennedy, who cast all the NCIS franchises. Then there's the "The Advocates," in which a female lawyer and a male ex-con team up to fight for the underdog; "Backstrom," which centers on a hard-boiled homicide detective who doesn't play well with others, which will be cast by Rick Millikan; and "The Ordained," about the son of a Kennedy-esque family who leaves the priesthood and becomes a lawyer to prevent his politician sister from being assassinated. And the network has ordered another political drama, "Hostages," which centers on a surgeon whose family is taken hostage after she's chosen to operate on the President of the United States. Ronna Kress is set to cast.

CW
The CW has ordered three drama pilots for next season. "Company Town" is about a scandal at a Virginia Navy base and its reverberations through the surrounding small town. "The Selection," which is set 300 years in the future, centers on a working-class young woman picked by lottery to compete against 25 other women to marry a prince and become queen. "The Selection" isn't technically a new project but rather a re-order of a pilot from last season, which was shot and passed on. And "The Originals" is a back-door pilot spinoff of "The Vampire Diaries," which will be cast by Greg Orson and Lesli Gelles.

FOX
Fox has ordered "Enlisted," a comedy from "Cougar Town" producer Kevin Biegel that follows three very different brothers working together in the Army at a small base in Florida. "To My Assistant" is about the grumblings of oppressed legal assistants in New York, and "House Rules" is about a neurotic Wisconsin family. "Friends & Family" is about two very different lovers in a long-distance relationship, and "2 Wrongs" is about a couple whose friends and family think they're ill-matched.
In addition to an untitled comedy project from "Cougar Town" and "Scrubs" creator Bill Lawrence, there's another from Mike Schur and Dan Goor about a group of detectives who do their best to solve crimes on the outskirts of New York City. Schur and Goor's show, which will be cast by Allison Jones, stars Andy Samberg and Terry Crews.
Fox has also ordered an untitled drama from J.J. Abrams and J.H. Wyman. Also in the network's drama ledger is "Boomerang," from "Shameless" and "ER" producer John Wells, which centers on a family-run hit squad that works for the U.S. government.