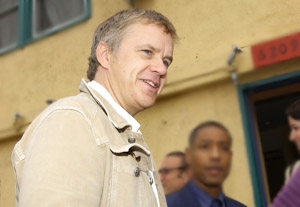 The scene: a board meeting of the Actors' Gang, the Los Angeles theater company co-founded in 1981 by Oscar winner Tim Robbins, its current artistic director. The board's finance committee had just reported. The news was grim.
"Because of the theater's financial situation and the economy, we were told there was cost savings not to produce at all," recalled Elizabeth Doran, the Actors' Gang's managing director. "Tim looked at us and we all said, 'What the fuck?' " From that moment grew the process by which the company—known for highly stylized and politically tinged work—created the WTF Festival, a three-month fundraiser. What makes this fundraiser unique is that it buys into an idea that is fast gaining currency among struggling nonprofits: multidisciplinary programming.
To be sure, "multidisciplinary" is an elastic, almost fungible term. Some theaters offering a traditional four-, five-, or six-show season might assert that the addition of an improv troupe on dark nights represents the incorporation of a new genre into their offerings. Steve Lozier, managing director of another longtime L.A. group, Moving Arts Theatre, said his company's "Arachnatopia" project—a site-specific piece hosted by the Natural History Museum of Los Angeles—may not represent a discipline totally outside the theatrical experience, but it illustrates how essential it is for new types of work to be integrated into a company's programming model.
Ideally, though, "multidisciplinary" means an event fairly far afield from a standard theater piece. Advocates say it is also one of the fastest and most effective ways to beef up audience development—and a potential donor pool.
"That's why Tim's attitude was we should open ourselves up as much as we can to new people," said Doran. "He felt we should reach out to our own network. Let's find films to screen. Let's reach out to musicians, dancers—things outside of 'theater.' " So one night, WTF might spotlight author-playwright Gore Vidal in a Q&A, or the HBO special "George Carlin's Jammin' in New York" might be screened. Musicians of every imaginable stripe are lined up: a Johnny Cash tribute band here, guitarist Tom Morello of Rage Against the Machine fame there.
Naturally, theater remains the Actors' Gang's core competency. A documentary theater piece, "On the Front Line: Three Generations of Soldiers' Voices," was recently presented for two nights—and for free, which might make one wonder whether this is fundraising or pure profligacy. Doran said most events have a cost for audiences, and the higher the event's profile, the higher the ticket price. From poetry readings to the appearance of a choral ensemble, the WTF model has a "something for everyone" aesthetic—one that, according to Doran, has been so successful that the Actors' Gang will continue to program film, music, other media alongside its regular theater program in 2010.
The Drama of Diversification
What is motivating the Actors' Gang, obviously, is its fundamental viability. In a corner of New England, meanwhile, the Wellfleet Harbor Actors Theater has the challenge of mounting a four-month season while offering events for the rest of the year that will keep audiences engaged—even during the harsh winter months.
When the recession set in, said Jim Dalglish, WHAT's managing director, the company had two things to do. First, it had to reduce its budget, down to $1 million annually from $1.6 million. "That meant five-week runs instead of four, so two fewer shows," he said. "We went with a company model of hiring actors instead of hiring actors for each show, so you could have them in rehearsal for one show while doing another at night."
More important, however, was WHAT's need to "completely diversify" its programming. So it began offering live broadcasts from New York's Metropolitan Opera. "We had a little up-front cost, like getting satellite equipment," Dalglish said. "But when we started showing the broadcasts, we pretty much sold out every weekend." The $24 ticket price is set by the Met, and WHAT keeps half, "so when there are broadcasts in the larger of our two theaters—the 220-seat venue—it means we're able to count on about $2,000 per opera," he said. When the National Theatre's production of "Phaedra," starring Helen Mirren, was broadcast, WHAT participated in that too.
Which is to say that Dalglish enthusiastically embraces the multidisciplinary trend. A satellite broadcast of Stephen King being interviewed at the New York Times building in Manhattan is set for Nov. 10 and is also widely expected to sell out. Last summer, WHAT helped present Artisan Fair, showcasing the work of local fine artists and craftspeople. Winter 2010 will likely bring the third annual Cape Cod Filmmaker Takeover, celebrating the work of movie directors with strong connections to the cape. "We even had a violin concert where the violinist had a foot pedal that projected on the screen the music he was reading from, the original text of a Bach cantata, so you'd follow along as he played," Dalglish recalled. "We do a talent show for Christmas, and we do Yule for Fuel, raising money for fuel assistance." The second-floor lobby of WHAT's beautiful Julie Harris Stage is an art gallery. For each production, local art sellers are invited to display their wares.
Best of all, Dalglish said, WHAT's multidisciplinary muse is yielding theatrical dividends: "Charitable donations are up 20 percent this year, which is bucking the national trend. Our overall revenue is up this year because of all the cross-programming. Our contact list was at 5,000; this year, 9,000. So we've basically doubled the people from whom we've captured information. If you broaden your offerings, you can make it."
Ordering à la Carte
It is possible that the growing appeal of multidisciplinary programming for theaters will be most keenly felt in those communities where different types of work rarely mix it up. In New York City, for instance, presenting groups like P.S. 122, Ars Nova, and Dance Theater Workshop are already highly recognized for embracing nontheatrical endeavors—a standard approach envied by the many Off-Off-Broadway companies that have seen the light but lack their own venues in which to join the trend.
"The thing is, you've got to be creative," said Tim Errickson, artistic director of New York's Boomerang Theatre Company, one of the leading groups in the "independent theater" scene. "But it can be done. Just take a group like Flux Theatre Ensemble. Whenever they do a show, they do dark-night programming and are multidisciplinary by the way that they complement what they're doing—like screening a film that's similar in theme to the play they're producing.
"The point is that in the future, as audiences change how they experience the performing arts, the choices you will have to make as an artistic director or as a producer will factor in multidisciplinary opportunities. You'll hire actors, but your season won't just be three shows, each for a month at a pop. You'll also be bringing in three bands or you'll be off screening two films, and maybe it will all be connected or maybe it will all be eclectic. I don't think audiences will be as responsive to just one element of programming anymore, because the cultural choices they have will be so varied."

The Actors' Gang's WTF Festival runs through Dec. 19. www.wtffestival.theactorsgang.com.