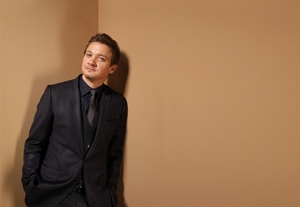 Jeremy Renner was trying to decide what his next step should be after wrapping "The Hurt Locker" when the script for "The Town" came his way. Although he thought the story was great and the role of James "Jem" Coughlin was dynamic, he had two reservations about taking on the project: He didn't know if he wanted to play a bad guy, and he didn't know if he wanted to work with Ben Affleck.
Renner had never met Affleck and had concerns about the latter's desire to direct and star in the film. Renner decided the best thing would be to meet with Affleck and tell him how he felt. "Don't get me wrong, it was not an easy question to ask somebody, 'What makes you think you can direct and star in this thing?' " says Renner. "But it's an honest one, right? Well, he was such an affable guy—and so insanely smart. He made me feel very comfortable, enough to be able to be very frank and honest with him. I decided, heck yeah, I wanted to work with him and swing for the fences, without a doubt. From that, our friendship grew. He's such a likable human being."
Renner says part of Affleck's strategy was to put an "amazing" cast together and trust them to "do their own thing so he could focus on the shots and making the movie. He said something like, 'Ninety percent of directing is in casting,' " remembers Renner. On set, Renner says, Affleck made him feel like the film was a big collaboration. "He wanted it to be everybody's film," says Renner. "He loved if you asked him questions, but otherwise he left you alone to do your thing."
To get into the mindset of the hotheaded Coughlin, Renner spoke with bank robbers and prisoners who had backgrounds similar to that of his volatile character. "I probe a lot and ask a lot of questions," says the actor. Renner, a California native, also spent time in Charlestown, Mass., getting to know the locals and trying to understand the community and the mentality of the people living there. "I don't think I could have done this film on a soundstage in Los Angeles without ever going to Boston," he admits. "The community is too specific. I would have failed miserably."
Of conquering the Charlestown accent, Renner says, "That was my main concern because it can really pull you out of a movie if the actors don't get the accent right," he says. "If you do get it right, then it's a little color of a place and time and space." Despite Renner's concerns, Affleck refused to let him have an accent coach. "He didn't want any polished accents," explains Renner. Instead, he was set up with men from Charlestown whose job was to help him get it right. Still, Renner says he struggled. "I was kind of getting it. The improvising with the accent was difficult to do. But I think I really started to get confidence when I asked three guys from Charlestown to tell the same knock-knock joke, one right after the other, and they all sounded different. But a lot of personality came out with each of their fluctuations. So from there, I didn't really micromanage the accent. I was specific in the character and how he felt. I realized if your personality really comes out, you forgive a mistaken syllable or vowel because the character is so strong. So I focused on that."
Killer Instinct
Renner says his preparation differs for every role. "There's what instinctually I connect to—and what I don't, I have to work on." But in general, he tries to focus on always being fluid and truthful. "I don't care how I get there as long as it's honest," he says. "I have learned in my 39 years to always trust my instincts and to be prepared for anything. If it feels honest, well, you can't go wrong with that. You just can't. If you're trying too hard, you're probably doing something wrong."
What stands out in his mind as the best acting training he ever had was his experience with the film that put him on the map: "Dahmer." Renner had only two hours to prepare a 30-page audition for the lead role of a serial killer he knew nothing about. Instead of reading the whole script or spending the two hours memorizing lines, Renner decided his best bet would be to get the gist of what happens in the 30 pages and spend the rest of the time getting into the mindset of the character. Renner walked around his apartment naked, he looked at images of cadavers on the Internet, and did numerous things that made him feel uncomfortable. "It was the idea of allowing myself to go there mentally and spiritually," he says. "I could have done the alphabet as Jeffrey Dahmer at that point. I got the job and then, two days later, we were shooting principal photography. Fourteen days later we were done. It was crazy." Renner says he and director David Jacobson talked about the character only one time, over a cup of coffee. "I think he said something like, 'I don't want you to do an imitation of Jeffrey Dahmer. You kind of look like him, but I want you to embody him spiritually and emotionally. Don't worry about the physical or any of that. We don't care.' Then we just kind of went for it and trusted that what I was doing was right. As a director, he gave me the freedom and allowed me to embody the role. Normally, would I have liked more time to prepare? Absolutely. If I did, would it have been better? I don't know. But what I learned was to trust my instincts." Renner was nominated for an Independent Spirit Award for the role, and director Kathryn Bigelow said it was his performance in "Dahmer" that made her want him for the lead in "The Hurt Locker."
Being Bad
Renner admits he has a knack for making unlikable characters sympathetic, which is probably why he excels at playing the bad guy. He thinks actors can learn to do this if they have a strong emotional body. "I think that it comes from knowing the story very well, being an observer in life, understanding human behavior very well, and connecting with the director," he says. "Remember the director has the eye; they are the ones controlling how this person is perceived. I'll control as much as I can. Not that I think about line readings or any of that sort of thing, but I like to play against the text. If it's some sort of twisty-mustache bad guy, I'm like, 'This is really pathetically boring. How else can we make this interesting and honest?' I'm willing to fall on my face and suck. And I'm willing to reach for the stars and be as authentic as I can.
"I've been [pursuing acting] for a long time," says Renner. "I remember living by candlelight and 'doing the suck,' as I call it, just wanting to kill myself." Currently in the Middle East filming "Mission: Impossible—Ghost Protocol," Renner is thrilled to be living his dream. "Every project is my dream project. I don't think I've ever taken a job because I had to take a job. I wanted to do it because I wanted to do it."  
Great State
Actors playing Massachusetts characters find themselves in the running.
Jeremy Renner and Melissa Leo aren't the only actors earning acclaim for playing New England residents. Earlier this year, Back Stage spoke with Christian Bale and Sam Rockwell, two actors garnering raves and awards buzz for playing real-life people. In "The Fighter," Bale portrays Lowell, Mass., resident Dickie Ecklund, a former boxer addicted to crack. In "Conviction," Rockwell plays Boston resident Kenny Waters, a man wrongly imprisoned for two decades.
"I liked Dickie so much. He has mannerisms to Mars. In truth, if I had done everything Dickie does, everyone would have gone, 'Oh, this guy's ridiculous. What's he doing, vaudeville?' Tragedy goes with comedy, and that's never truer than in the case of Dickie. We actually had to pull back on some of the comedy because we were afraid people wouldn't believe some of these crazy situations he got himself into."
—Christian Bale
"Playing Kenny was one of the hardest things I've ever had to do. Since he's passed away, I obviously couldn't meet with him, but I spent time with [his sister] Betty Anne, her children, and friends of Kenny. I really got insight into who this man was: a guy who would get in brutal fights with prison guards and yet also be so sweet and jovial. I don't look anything like him: The real guy was 300 pounds and bald. But I do think we captured the essence of Kenny."
—Sam Rockwell