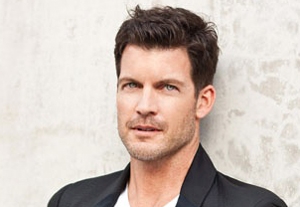 Mark Deklin has been around the proverbial television block. With an acting career that has spanned more than two decades, he has seen many of his shows come and go. Now, he's starring on the new ABC hourlong comedy, "GCB," which is attracting a solid audience so far. But, Deklin will be the first to tell you that he's well aware that the wind can change direction quickly in TV.
"Doing this show now, there's a part of me that's a little bit jaded, because I'm not as young as I used to be," Deklin, 44, tells The Hollywood Reporter.
"I've been on shows that have gotten canceled," he continues. "I know what that is, but I'm optimistic. I feel like the people that are watching this show are loving it. We're getting great fan response. I've been really touched by the response that Blake and Cricket are getting. People have really embraced this relationship in a way that I didn't expect and it's very moving, very touching. So I'm hopeful that we're going to be around for a few years."
Decklin plays a complicated character on "GCB." Blake is gay and in the closet, but his wife Cricket (Miram Shor) is in on the secret. And what we've learned in recent episodes is that the arrangement isn't unheard of in the South and even has a name: "A white marriage."
"I don't know where things are headed, but I do know in this season what people have really been fascinated by," he says. "Because the truth is we've seen gay couples, we've seen gay lifestyles on TV. That's not new. But seeing a closeted 'white marriage' on TV, that's new. And I think people sort of feel like, 'Oh we know what he's doing up at the ranch, we get that, we all understand what that is, but what is this marriage between these two people?' "
Deklin is no stranger to complex characters that challenge an audience to think outside the box. On the critically acclaimed, though hardly watched, 2010 Fox series Lone Star, he played Trammell Thatcher who was alternately the antagonist and moral compass of a drama, which had a con man as its "hero."
"'Lone Star' was a show that probably should have been on cable and not a network," Deklin says. "It was an interesting concept, it was a nuanced concept, and kind of a hard sell even though it was very smartly written and I'd like to think smartly executed. It just never garnered the big numbers that it needed to for network TV and people got nervous and pulled out, which was a real heartbreaker because we all really believed in that show and believed it had the potential for greatness."
As for "GCB," Deklin is happy to see that the audience quickly accepted his character -- something he mistakenly thought would take several episodes to accomplish.
"What I've been shocked by is how from the very first episode people have been embracing this character," he says. "And by the second episode -- especially when we learned that he's not this deceptive guy deceiving his wife and leading her on -- that allowed room for a lot of, I don't want to say forgiveness, but a lot of acceptance."
- The Hollywood Reporter