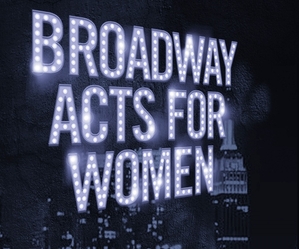 Broadway luminaries Patti LuPone, Lena Hall, and Jesse Tyler Ferguson added their voices to the growing chorus of people advocating for women's reproductive rights on May 3 at 54 Below.
Hosted by Martha Plimpton and her advocacy nonprofit A is For, "Broadway Acts for Women" featured musical theater stars performing karaoke numbers selected by an audience bidding on various prizes. Based on the evening's rollicking success—raising over $40,000 for the Center for Reproductive Rights—it is sure to be the first of many.
"I wouldn't be standing here right now if I didn't have access to abortion when I was a younger woman," said Plimpton onstage. In between biddings and impromptu performances, the actor-activist spoke passionately about abortion as a fundamental human right; in the last four years the procedure has been restricted by over 200 new pieces of American legislation, denying women safe access to reproductive health care.
"I'm here to say that I'm going to stand up for those women as long as I have breath in my body. We must remove the stigma of abortion."
Tony nominee Montego Glover kicked off the evening's audience-chosen karaoke songs by belting Rihanna's "Stay," followed by Howard McGillin taking on Radiohead's "Creep." Plimpton joined Constantine Maroulis to perform "You're the One That I Want"—on one leg. Fresh off a matinee performance of "The King and I," Conrad Ricamora sang Amy Winehouse's hit "Rehab," while Jesse Tyler Ferguson gave a rousing rendition of Taylor Swift's "Shake It Off" that left the audience in stitches. Lena Hall, last year's Tony winner for "Hedwig and the Angry Inch," earned a standing ovation for an astonishing "Total Eclipse of the Heart," and Tonya Pinkins rocked out to "I Will Survive."
The legendary LuPone ended the event by belting "(You Make Me Feel Like) A Natural Woman," sharing the song with Hall, Glover, Pinkins, and fabulous backup singers Marissa Rosen and Jessica Vosk.
Proceeds from "Broadway Acts for Women" support A is For as well as the Center for Reproductive Rights, which seeks to combat laws that oppress women's rights in states such as Texas, North Carolina, and Arkansas. "Right now here in the United States we are at a pivotal moment," announced the Center's president and CEO Nancy Northup to a cheering crowd. "The opposition will not stop in its attempt to deprive us of our constitutional rights. So we're going to take this to the Supreme Court.... We're going to need everybody. The majority of Americans agree that women can make the personal decisions about their health care, their families, and their futures. All we need to do is make sure we get up and stand up and are heard."
Since 2012, the volunteer-led team at A is For has dedicated themselves to advancing a world in which every woman has access to reproductive rights. For more information, go to www.aisfor.org. To add your story to the chorus of voices, visit www.drawtheline.org.