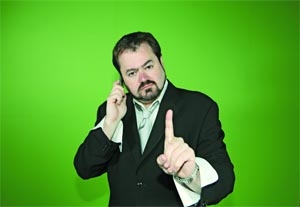 In early 2006, just after YouTube achieved mainstream awareness through its battle with NBC over the
Saturday Night Live
short "Lazy Sunday," a much less contentious development was taking place in the world of scripted online content. Hayden Black, a British expatriate, formed a production company, Evil Global Corp., and began the first of his Web comedy series,
Goodnight Burbank
, a behind-the-scenes look at a fictional local newscast.
Black writes, produces, and stars in the series, which he has expanded to include
Goodnight Burbank
:
Breaking News
and
Goodnight Burbank
:
Hollywood Report
. It can be seen on
BabelGum.com
and will continue until mid-July. Another series,
Abigail's Teen Diary
, stars Black as a 13-year-old girl with the fictitious Bloomberger's disease, which turns an otherwise normal girl into a middle-aged man.
For his efforts, the Manchester, England, native receives about 800,000 to 1 million monthly viewers for
Burbank
and
Abigail
, funding from a major studio (he won't say which), and positive media attention, including raves from The Wall Street Journal and the Los Angeles Times. Last August, Business Week asked, "Could it be that Black isn't just an example of the market, but is actually a big percentage of it?"
The question, however, wasn't necessarily praise. The reporter, Liz Gannes, was merely asking whether there was enough quality content to justify the number of video hosting sites created in the past two years. With the dominance of YouTube and the rapid rise of Hulu, the site jointly owned by NBC and Fox, what will become of independent Web producers such as Black? Like most questions having to do with online video, no one can say for sure. Wherever the medium is headed, though, it's virtually certain Black is going there too. He may even lead the way.
Back Stage
: The
Goodnight Burbank
franchise just celebrated its third anniversary. How has your life changed in those years?
Hayden Black
: I guess I've gone from struggling writer to the head of my own production company. We've taken on a full-time business-development person, and a [lawyer], so we're hoping we're starting to make some very real money—certainly by the end of this year. The next huge project we're working on, which we think might end up dwarfing both
Burbank
and
Abigail
, is a sci-fi musical comedy,
The Cabonauts
, about cab drivers in space. Every episode comes complete with an original song, an original music video, kind of like
Flight of the Conchords
.
Back Stage
: When you say "real money," what are we talking about?
Black
: About half a million dollars—after production costs [which include cast and crew salaries].
Back Stage
: So you'd get paid as an actor and then also share in the profits?
Black
: I'm acting, directing, writing, producing, and I'm not taking a salary, because I want the money to go to the cast, the guy doing the CGI work, the line producer, and so on, because I know this thing has to be firing on all cylinders. We're hoping that with the conjunction of all the shows we're doing, we'll reach that kind of money by year's end, with ad sales and whatnot. That's our projection. Which is considerably different from the past three years, which has been money flying out the door.
Back Stage
: Are you in debt?
Black
: To my eyeballs. I've been subsisting on loans from family and friends who, thank God, believe in where I'm going and what I'm doing with this. I can't talk about the details of the
Goodnight Burbank
deal—we got a little bit [of money] in. We've just converted my two-car garage into a green-screen studio, where we hope to shoot
The Cabonauts
and
Burbank
and anything else.
Back Stage: What were you doing before?
Black
: I'd been producing and writing promos for ABC, NBC, and CW, when I finally quit. I made a six-figure salary, but I realized it's not what I wanted to do with the rest of my life.
Back Stage: How did you enter this next phase of your life?
Black
: Ultimately it was about conquering fear. I had quit to be a writer. Part of that whole process was realizing writing a script wasn't enough. I'd written scripts in the past, and despite them being optioned, nothing ever happened. It was a matter of necessity more than anything else: If this is going to get done, I need to do it myself. That meant commandeering the vision, and putting myself in a position of extreme vulnerability, because I'd never acted before.
Back Stage
: How was it for you in the beginning, the acting?
Black
: I'd never acted on a high school stage before, but I definitely see this growth. It's something that I've enjoyed, and something that I wish I could throw myself more into, but because I'm overseeing so many aspects of the production, I don't have the luxury of learning lines before I get to the set. I'll try and learn them in the few minutes before we shoot.
Back Stage
: Do you do the acting for fun, or do you do it out of necessity?
Black
: For
Burbank
it's for fun; for
Abigail
it's necessity, because it's such a radically different character. But I think deep down at some point all of us have wanted to be actors. It is very appealing to the ego.
Back Stage
:
Abigail
is a freak show. How did you come up with this idea?
Black
: It came from a few places. One was a business perspective. I needed to come up with an idea for which I could generate a lot of content on a cheap basis. The reason I cast myself in the role is because I knew I could depend on myself to show up. In terms of where the idea came from, I was struck by the idea of what it's like to be an ugly duckling in the 21st century.
Back Stage
: How has the world of Web video changed in three years?
Black
: I think it has gone two ways. The absolute flood of online video has surpassed anything anybody was projecting. By the same token, the studios knew fairly early on that this was a game changer and have acted accordingly. They're the ones with the deep pockets, and they're the ones moving in to make sure that viral video belongs to them. Long gone is the day when the front pages were populated by user-generated content. Nowadays it's all paid for by networks and studios.
Back Stage
: And how has that affected the quality of what you see online?
Black
: You just have to look at traditional media. Having money doesn't mean you have great content. There are slews of movies and television shows that attest to that. One thing I've noticed is that people seem to be lacking development time—to develop an idea, develop some compelling characters. Money will only take them so far.
Back Stage
: You're shooting
Goodnight Burbank
:
Hollywood Report
as a union project. Why did you select AFTRA?
Black
: Once the contracts were signed, we were expected to be in the studio and shoot the whole season, edit it, and deliver it within six weeks. The fact that SAG is so fluid right now and that the shoe could drop at any point, we couldn't take the risk [of a strike].
Back Stage
: Is Web video going to make it as its own genre, or will it be used to leverage work in traditional media?
Black
: I think when this started off, even myself, I was leaning toward choice No. 2. But with the popularity that it has, I think it's definitely going to be a medium in and of itself, which one day will be as strong as movies and television and radio have been before it.
Back Stage
: Every day, someone has a new pronouncement on what the new business model for online video will be. What do you think?
Black
: What I think is what we're putting our money on. Evil Global Corp. is going to bring three things to the advertisers. Great original content that doesn't just have legs to survive on the Internet, but to cross multiple platforms—DVDs, TV, movies, mobile, books, you name it. Two, we're working with other companies to bring a social-media widget to the table. It's a great way for fans to connect to build even greater awareness and presence for the show. The third thing is targeted media buys. Let's say Coca-Cola comes along and says, "We want to sponsor the show, but we want a specific amount of views with a specific demographic." We can guarantee that.
Back Stage
: How?
Black
: We enable the sponsor to go in and see for themselves how a show is performing, right down to the number of minutes they're watching and what kind of demographics, where they're coming from. We're hoping we'll be able to offer numbers in the millions, directly to an engaged demographic.
Back Stage
: Where do you see yourself three years from now?
Black
: I see us with three really strong brands:
Burbank, Abigail
, and
Cabonauts
. I would hope that within three years we've already crossed some other platforms and we'd be on mobile. We're going to release the first
Goodnight Burbank
DVDs later this year. We've talked to a couple of people in England and they're interested in launching television versions of
Abigail
and
Burbank
over there. Which would be ironic, that I'd have to come all the way over here to go back.