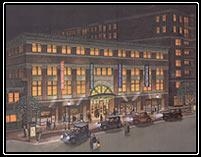 May 25, 2001
"It's been a roller coaster ride this past year," smiled Alan Salzenstein, Executive director of Arlington Heights' Metropolis Performing Arts Centre. "But more ups than downs."
For a little more than a year, Metropolis has served as the crowning jewel in Arlington Heights' redeveloped downtown area, pulling in patrons from all over the northwest suburbs. Metropolis will mark its one-year anniversary with a special invitation-only celebration on Thursday, May 31, 2001.
"It's been exciting to establish a cultural presence that hasn't been in the northwest suburbs in a while. The reception has been outstanding," Salzenstein remarked. "We exceeded our membership goal within the first three months of opening."
The Metropolis Performing Arts Centre is a $22 million live entertainment and arts education facility, with a performance schedule that cuts across virtually all genres, including theater, dance, comedy, cabaret, jazz, symphony, family and children's shows. Guest artists and collaborating companies in Metropolis' first year have included Apple Tree Theatre, American Theatre Company, The Second City, Ravinia's Rising Stars of Jazz, cabaret stars Karen Mason, Liz Callaway and Jason Robert Brown, Chicago dance companies Hubbard Street 2, Joel Hall Dancers and Cerqua Rivera Art Experience, and children's theater from Emerald City and Griffin Theater. The resident Metropolis Youth Symphony toured Australia during the 2000 Summer Olympics, and in a first-year coup, was awarded the Illinois Council of Orchestras Programming of the Year Award.
In total, there have been 407 performances at Metropolis in its first year, including more than 100 sell-outs, with over 100,000 total admissions to events there. Over 1,000 students take part in educational programming at Metropolis through The Second City Training Center, the Betty Haag Academy of Roosevelt University, the Eileen Boevers Performing Arts Workshop, and others.
As a focal point of Arlington Heights' redevelopment, Metropolis has served as an impressive anchor. "I think that people who have never been here would be extremely surprised," said Salzenstein. "A quick jump off of the train, and you are within walking distance from every type of restaurant, state of-the-art movies, quaint stores and botiques. It's a great way to spend an afternoon."
GETTING OFF THE GROUND
"It was partly my idea," recalled Kelly Leonard of The Second City, one of the core presences at Metropolis. "The developers and I were discussing developing a Second City in that area for a long time... we'd had one in Rolling Meadows that was always very successful." But as the development project expanded, it became clear that the expense of building the performing arts complex would be too expensive for one institution to handle. "So I thought, 'Well, maybe we should be talking to some other theatres about joining in.'" Leonard spoke with Salzenstein, who was then with Apple Tree Theatre; Salzenstein soon signed on as Metropolis' Executive Director.
Maintaining a presence in the northwest suburbs has been a highly successful venture for The Second City, as well. "There are a lot of people who just don't come downtown? it can take hours to get in and out. The fact that we've got a venue there is great; we can expand our training programs, and it doesn't affect our downtown attendance at all."
The suburban community has embraced The Second City's performance style enthusiastically as well. "The Second City has always been good at exposing the small regional truths; it makes every performance entirely unique. We can poke fun at the PTA-soccer mom world, and the audience identifies with it."
"We wanted to let people know in the beginning that we wanted to be strong members of the community. So once we took the entire audience out for ice cream," laughed Leonard. "We called the Baskin Robbins and asked them to stay open late, because we might bring a few people by. It was really something showing up with hundreds of people for ice cream."
PARTY PREPARATION
"We'll only have one chance to celebrate our first anniversary, and we want to do that by shining the spotlight back on everybody who helped make our inaugural year such a success," said Alan Salzenstein.
A cross-section of Metropolis highlights such as an excerpt from "Mom's the Word" and a performance by The Second City will be featured at the anniversary celebration. Tom Andersen, an Arlington Heights native who is one of today's most nationally celebrated cabaret singer/songwriters, will offer an exclusive sneak-peek of his upcoming Broadway Cabaret Series concerts as well.
What can suburbanites expect from Metropolis in its second year? "I want to continue the types of programming that we've done," said Salzenstein. "Theatre, dancing, Broadway cabaret performers, children's theatre, jazz with the Ravinia festival. And I'd like to expand on developing new theatrical works, and having a stronger relationship with some of our local regional theatres...to work off of the foundation that we've already started."
The Metropolis Performing Arts Centre is located at 111 W. Campbell St., at the intersection of Campbell and Vail Ave., in the heart of downtown Arlington Heights. For information about upcoming performances, call the Metropolis box office at (847) 577-2121, stop by Tuesday through Sunday, 10 a.m. to 5 p.m. (or show time), or visit Metropolis online at www.metropolisarts.com