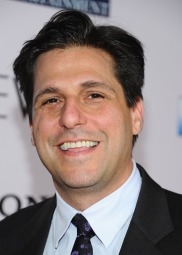 Metro-Goldwyn-Mayer appears to have finalized its executive shuffle with Jonathan Glickman, president of its motion picture group, extending his term through 2017.
Gary Barber, the venerable studio's chairman and CEO, made the announcement that Glickman will continue in his current role overseeing development and production for all feature films, as well as targeting co-financing opportunities with other studios.
"Jon has made tremendous strides for the motion picture group since he first joined us at MGM in early 2011," Barber said in a statement. "With his keen eye for material and incredibly strong relationships, he has been able to build an envious slate of pictures and an exciting development pipeline for future films."
Glickman said he was "grateful" for the opportunity.
"We will continue to build a strong slate of films for the worldwide audience and make MGM a home for both established and emerging filmmakers," he stated.
Earlier this month, MGM announced co-head Roger Birnbaum, Barber's partner, would leave the studio's business side and return to producing. Birnbaum and Barber bought the bankrupt company two years ago and have since moved it onto firmer financial footing.
The studio is now prepping for the release of "Skyfall," the 23rd James Bond installment, which is due out later this month.
Other forthcoming titles that Glickman has supervised include "Carrie," the reboot of Stephen King's prom horror tale starring Chlöe Moretz Grace and Julianne Moore, as well as "Robocop," directed by José Padilha, according to a release. Glickman's tenure has also seen the development of "Hercules," starring Dwayne Johnson, "The Machine" starring Vin Diesel, "The Magnificent Seven" starring Tom Cruise, and reboots of the "Deathwish" and "Poltergeist" franchises.
Glickman joined MGM in February 2012 from his post as president of Spyglass Entertainment, where he worked with Barber and Birnbaum. Glickman started his career with Birnbaum at Caravan Pictures in 1993.