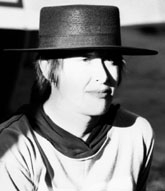 By Landon Hall
New York (AP) -- Michelle Shocked is on a rant about her battles with the music industry when she's interrupted by a woman standing over her. It's time for Shocked's papaya peel.
"I'm not a girly girl," she says as the goo is applied to her face inside a darkened, serene room at a Manhattan salon. "But this is all about rejuvenating, keeping the skin fresh."
The rejuvenation goes more than skin-deep.
Shocked, a 41-year-old singer-songwriter, became an overnight sensation 15 years ago with the release of her major-label debut, "Short Sharp Shocked." Her East Texas twang, earthy guitar playing, witty yarns and outspoken political views put her at the forefront of a revival in folk rock, along with Tracy Chapman and Lucinda Williams. But just four years later, Shocked's star began to fade, hastened by a bitter legal dispute with her record label.
In the past few months, she has just begun to emerge from a professional and personal wilderness. Her new record label, Mighty Sound, is reissuing her first four albums, including "Short Sharp Shocked," which is coming out Tuesday.
She also found a new love (Southern California artist David Willardson) following a divorce, and she's coming to terms with her painful past.
"It's like the Titanic sank, and I've been clinging to a life raft for 10 years, waiting for someone to come and pick me up," she said. "Finally, I had to start nailing some driftwood together."
Shocked's story rivals the many legendary bluesmen she idolizes.
Born Karen Michelle Johnston, she grew up in a large Mormon family, raised by her mother and stepfather. She ran away at 16 to live with her father in Dallas. After putting herself through college, she lived as a vagabond, roaming the country and hitchhiking through Europe. In Italy she was raped by a fellow peace activist.
Twice she was taken to a mental hospital, the second time when she was committed by her mother. She was arrested at a protest during the 1984 Democratic convention in San Francisco; Michelle Shocked was the fake name she gave police.
In May 1986 she returned to Texas to attend the folk festival in Kerrville. An English producer named Pete Lawrence asked to tape her singing and picking her guitar on his Sony Walkman. The result was a muddy-sounding but charming session, complete with crickets chirping and truck engines revving in the distance, that captured Shocked's raw talent.
Unbeknownst to Shocked, the low-fi recording was released in England as "The Texas Campfire Tapes." It became an underground hit and landed her a contract with Mercury Records in New York.
Then Shocked made "Short Sharp Shocked," helped by Dwight Yoakam's producer, Pete Anderson, and a group of seasoned musicians.
"When you make a record, you draw back the bow and try to get the arrow to stick as close to the bull's eye as possible. Usually you're off in one direction or another," said Peter Lubin, the former Mercury executive who signed Shocked. "With 'Short Sharp Shocked,' we absolutely hit the center of the target, and that doesn't happen very often in the music world. It's quite a fantastic record.'
A throwback to the rockabilly records made at Sun Studio in Memphis, the 1988 album was an antidote to the phony luster of the hair bands. It became a staple on college radio and was nominated for a Grammy for best contemporary folk recording. The award went to Chapman, but Shocked had entered the mainstream. She followed up with two more fine albums, "Captain Swing" (1989) and "Arkansas Traveler" (1992).
Then, suddenly, her career unraveled. Shocked wanted to explore a gospel project to express her newfound faith, but she says Mercury nixed the idea and refused to let her record any new music, or sign with another label. She sued Mercury and its parent company, PolyGram.
After a nasty public fight, she was released from her contract in 1996. But the damage was done.
She still toured, but her early records disappeared from stores. She released "Kind Hearted Woman" through BMG in 1996, but the bleak songs about death and suffering didn't exactly catch fire with her audience. Neither did her 2002 release, "Deep Natural," a more satisfying album that christened her new label and touched on the spiritual themes she had been developing.
Shocked is able to re-release her Mercury albums because of an almost unheard-of provision she negotiated in her original deal. After 10 years, the rights to the master tapes of the albums reverted to her, giving her complete control over their distribution and enhancing her profits. She secured the rights to "The Texas Campfire Tapes" separately, and in April she released a restored version of the album.
Shocked is confident she can connect with listeners again; it's only a matter of them coming around to her.
"I've learned from my time in this business that it goes in cycles, and veterans like me are priceless, and national treasures," she says unequivocally. "I am building a legacy for myself where at a certain age, no one will have the breadth and the scope of what I have in regards to American musical heritage. And so when they want it, they've gotta come to me."
On the Net: http://www.michelleshocked.com/
-------------
Copyright 2003 Associated Press. All rights reserved. This material may not be published, broadcast, rewritten, or redistributed.