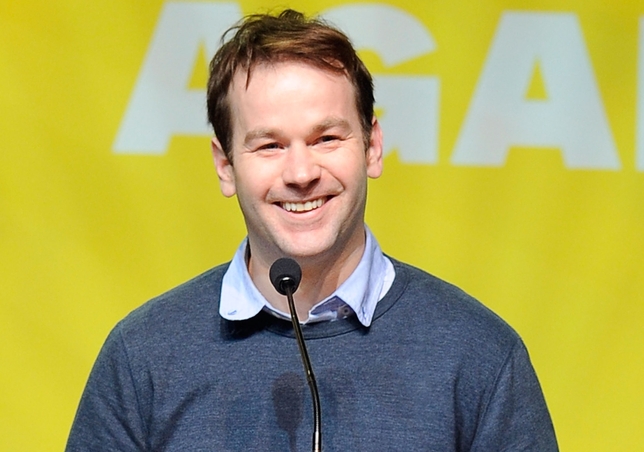 Comedian and filmmaker Mike Birbiglia will host IFP's Gotham Independent Film Awards this year, the Independent Film Project announced. The 22nd annual awards honoring American independent films will be presented at a ceremony Nov. 26 in New York City.

"I couldn't be more excited about hosting the Gotham awards," Birbiglia said in a statement. "I've only attended once before; that was as a coat check guy (and I'm not kidding), where I worked with my sister Gina. I don't mean to brag, but I must have done a pretty damn good job hanging up coats to be asked back to host the thing. At first I thought maybe they should have asked Gina to host, but then I remembered that she lost a few coats. The point is, I'm really excited about the Gotham Awards! It's truly an honor to be asked by IFP."

Birbiglia's hosting gig closely follows the release of "Sleepwalk With Me," his debut as writer, director, and star of a feature film. "Sleepwalk With Me" began as a one-person show Off-Broadway and was also the inspiration for a bestselling book of essays, before Birbiglia adapted it into a movie that was a hit at Sundance and SXSW this year. The film premiered Aug. 24 at the IFC Center in New York and has since expanded to select theaters nationwide.

"We are so thrilled that Mike Birbiglia will be hosting the Gotham Awards this year," IFP Executive Director Joana Vicente said in a statement. "Coming off an exciting year as a debut director, with a hit film under his belt, Birbiglia's charm and humor are sure to delight our audience."

In past years, the Gotham Awards have entrusted emcee duties to comics such as Kumail Nanjiani, Aasif Mandvi, David Cross, and Michael Ian Black.

The seven awards categories for 2012 include Best Feature, Best Documentary, Best Ensemble Performance, Breakthrough Actor, Breakthrough Director, Best Film Not Playing at a Theater Near You, and the Gotham Audience Award. Past Gotham Award winners for Best Feature include "The Hurt Locker," "Winter's Bone," "Frozen River," and "Sideways."

Read Backstage's August cover story about Birbiglia and "Sleepwalk With Me" at Backstage.com.