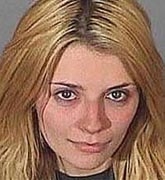 Actress and model Mischa Barton was arrested and jailed early on Thursday on suspicion of drunken driving and of driving without a license, according to the Los Angeles County Sheriff's Department.
The 21-year-old performer is best known as a former star of the Fox network television drama "The O.C.," about the intrigues surrounding a group of young people living in an upscale coastal community in Orange County, California.
Barton was pulled over in West Hollywood shortly before 3 a.m. when sheriff's deputies noticed her vehicle straddling two lanes of traffic and she failed to signal when making a turn, according to an arrest report on the sheriff's department Web site.
"During Ms. Barton's detention, it was determined that she was an unlicensed driver and was driving while under the influence of an alcoholic beverage," the report said. "Ms. Barton was arrested and transported to West Hollywood sheriff's station where the booking process was completed without incident."
She was jailed in lieu of $10,000 bail, deputy Hugo Macias said.
The celebrity news Web site TMZ said Barton also was detained on suspicion of possessing illegal narcotics, but Macias refused to comment on that.
The English-born actress made her movie debut in the Sundance Film Festival favorite "Lawn Dogs" in 1997 and also has appeared in such films as "The Sixth Sense" and "Notting Hill."
(Reporting by Steve Gorman, editing by Jill Serjeant and Vicki Allen)
----------------
COPYRIGHT: (c) Reuters 2007. All rights reserved. Republication or redistribution of Reuters content, including by caching, framing or similar means, is expressly prohibited without the prior written consent of Reuters. Reuters and the Reuters sphere logo are registered trademarks and trademarks of the Reuters group of companies around the world.