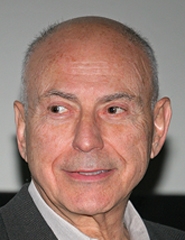 In the deliciously dark road-trip comedy Little Miss Sunshine, veteran stage, screen, and TV star Alan Arkin uttered what he says is his favorite line from his 40-year career. "'Can I give you some advice?' and [actor Paul Dano, playing Arkin's teenage grandson] shakes his head no, and I said, 'I'm going to give it to you anyway. Dwayne? That's your name, right?' I forget my own grandson's name," Arkin says, laughing. "We couldn't look at each other. We ruined about 10 takes, I think."
In an impressive ensemble of actors, including Dano, Greg Kinnear, Steve Carell, Toni Collette, and Abigail Breslin, Arkin manages to get all the best lines and steal much of the sunshine with his performance as the raunchy, outrageous grandpa who's been kicked out of a nursing home for snorting heroin. His redeeming quality is his close relationship with granddaughter Olive (Breslin), to whom he "shows the moves," choreographing a beauty pageant dance routine that would be more appropriate for a strip club. When his family tries to quiet his more acerbic rants, Grandpa responds with, "I can say what I want; I still got Nazi bullets in my ass!"
Brooklyn-born Arkin is one of only six actors who have been nominated for a best actor Oscar for their first appearances onscreen; his was for the 1966 film The Russians Are Coming the Russians Are Coming, in which he played a Russian submarine officer. He received another nod two years later for playing a deaf-mute in The Heart Is a Lonely Hunter. The nominations created a lot of pressure for the young actor, and now, 40 years later, he finds himself riding the Oscar hype wave once again. "Back then, [an Oscar nomination] still had the same fireworks connected with it, but I don't think the hype was as dramatic as it is now. It was such a blitz of publicity and hoopla that I think I went off into outer space somewhere and just kind of rode it without knowing what I was doing. I can hardly remember being there. I remember John Wayne and Charlton Heston at the event. It's like somebody throwing a surprise party for you. You just don't know who you are or where you are," recalls Arkin, whose credits also include Catch-22, The In-Laws, Glengarry Glen Ross, and Slums of Beverly Hills.
Scenes on Smack
Arkin was in St. Louis working for a group called Compass Players when he was recruited into the comedy ensemble Second City. He says he loved the company, in part because it was a place where it was okay to fail. "Nobody lets you make mistakes anywhere anymore. It's a crucial learning experience, and knowing you could fall on your face and find out where you could go and where you can't go was really, really important," explains Arkin, whose work with Second City led to two roles on Broadway: in Luv and Enter Laughing (for which he won a Tony Award).
"People who have had a lot of experience in improvisation end up being much easier to work with in that they tend to have a sense of the whole of what's going on around them, rather than just being immersed in a single character," he continues. "So I think some of that rubbed off on me, too. Improvising has been instrumental for at least half of the work I've done in film. Often a scene will need pepping up a little bit. Every time going out, I'll talk to a director and say, 'I want to do the part. I like it, but these couple of scenes don't really fall together. If the writer isn't available, can we play with it on the set before we start shooting?' I don't like to improvise on camera particularly, but I like to use it as a rehearsal tool."
Arkin chose one such moment to pep up in Sunshine: his final scene in the movie, with Breslin, just before his character's death. It felt a little too precious for him. "It felt like a denouement, you know, like the scene before somebody dies," he says. "I just felt like it was a little bit inconsistent with what the audience has seen of the character for every scene up until that point. I said, 'Can we find a way of saying all the things he needs to say and still be that pain-in-the-butt, abrasive guy that he was earlier?' Everybody agreed, so we played with it a little bit."
Arkin also shares strong moments with Kinnear, who plays responsible son Richard, obsessed with "winning" using his own self-help program. When Grandpa reminds Richard that losers are people who never try at all, ultimately telling Richard he's proud of him, Kinnear doesn't turn it into an after-school special. "I loved Greg's reaction to my compliment when I'm pouring out my heart and the fact that he doesn't just knuckle under to it, that he's still so caught up in his own pain-and coupled with the fact that his history with me is so difficult that he can't totally let it in. I was very impressed with the way he did that," he says.
Family Man
Husband-and-wife directing team Jonathan Dayton and Valerie Faris initially thought Arkin was too "virile" to play the role of Grandpa in Little Miss Sunshine. "That was the best almost-rejection I ever got," Arkin says, sounding amused. "The minute I read the script, I was just crazy about him. I badly wanted to do it." During rehearsals-a "family field trip" in the infamous yellow van-the cast struggled to stay in character as Arkin cracked them up with his near-constant moaning about needing to go to the bathroom to get his "fix."
Arkin says he had a wonderful experience shooting Sunshine, because he loves ensemble films-team efforts where every character has a reason for being there. "Like the films of the '30s and '40s: Every character in a movie had life, dimension, texture, and richness. And I feel like most American films now are geared toward one or two actors, and the rest you just sort of fill in and don't remember much about," he explains. "Other than the six principals, there was wonderful work from the doctor in the hospital, the bereavement counselor, and the guy who played the emcee at the pageant. That's the kind of films I gravitate towards."
In 2001's Thirteen Conversations About One Thing, another ensemble film Arkin was perfect in, his character is obsessively envious of other people's success. "Alan Arkin can speak, even by blinking. He's just got such a wonderful face," director Jill Sprecher says on the DVD commentary. "What's so great about him is, everything he does is so natural. He's one of those actors you can never catch acting."
Throughout his career, Arkin has played compelling Everymen, heavies, and tough-loving dads, but you'll rarely see him playing characters he doesn't respect. "I don't like playing cruel people anymore. I think I'm close enough to be Method a lot of times, so that I feel like the emotional life of the character does rub off," he admits. "I think it rubs off on everybody to a certain extent. I don't think you can avoid it. I was miserable for three months doing Wait Until Dark. It's the first time I ever played a heavy, and I hated being cruel to Audrey Hepburn, who I was nuts about. She was just a wonderful human being. So I didn't have a very good time. I was talking to Andy Garcia about that years later, and he says, 'I know what you mean. There's a name for it. We call it the bad-guy blues.' It's something that he's been through, and I gather from the way he talked that other people go through the same thing."
Arkin will soon use his distinctive voice to play an animated bee in Jerry Seinfeld's Bee Movie, and he recently signed on for Rendition, starring Reese Witherspoon, Jake Gyllenhaal, and Peter Sarsgaard. Arkin had many jobs on the road to acting success: folk musician (he co-wrote "The Banana Boat Song," which shot Harry Belafonte to fame); delivery boy; dude-ranch entertainer; pot washer; babysitter; and his personal favorite, vacuum cleaner repairman. He urges actors to persevere by not waiting around for the phone to ring. "Go out and act," he advises. "Actors get confused as to what their career consists of, and haranguing your agent and waiting for the phone to ring and reading the trades is not acting. If you want to act, go out and act."