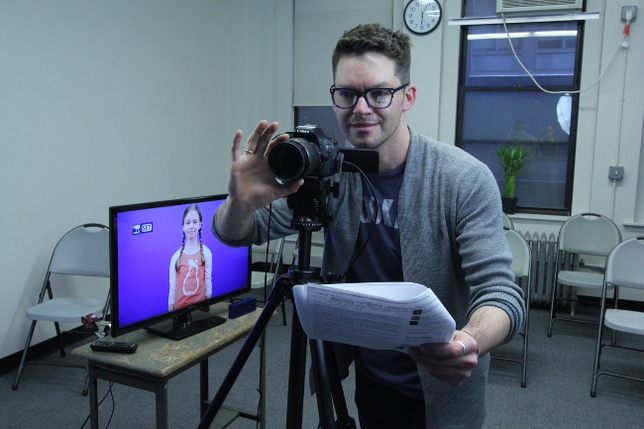 MN Acting Studio, headed up by New York–based acting coach and Backstage Expert Matt Newton, is launching a new program focused on the business of acting.
The Actor Forums, beginning June 7 and continuing every Sunday throughout the summer, will be 90-minute crash courses covering various aspects of the business not already offered at the busy city studio.
The workshops, just $10–$20, will be able to accommodate about 10–15 students per class, and topics slated to be addressed include how to get an agent, a course in self-taping, how to nail audition monologues, what makes a good headshot, the art of the television audition, and several others.
Newton will be joined by industry professionals across the business for his forums: Andy Roth will lead a workshop about breaking into voiceover acting on June 14, while Mike Francis from Leading Artists Agency will teach actors how to land an agent later that day.
Since its founding in 2009, MN Acting Studio "has always focused on combining the craft of acting with the business of acting," but it wasn't until now that its owner and head acting coach was ready to launch this new branch of the business.
"We felt there was a real need for actors to have affordable seminars that put industry professionals in front of them," Newton told Backstage.
"I was inspired by what Space Station [Casting] is doing in L.A. with its Artist's Initiative and felt a strong need to offer that in New York City," he added—the thriving Los Angeles casting facility announced its one-session courses just recently.
"I think actors always need to have an honest perspective in this business, to be well educated, and to make smart decisions when it comes to their career," said Newton. "We wanted to bring that to our community in a simple, straightforward way."
While the slate of courses has not yet been announced for July or August, actors can check MN Acting Studio's website for updates.
"We hope to continue expanding by bringing in directors, writers, and producers, and to offer more forums to educate actors of all levels on all aspects of a career," Newton explained.
"At the end of each forum we hope that actors will come out with a much greater understanding of a particular side of the business."
Inspired by this post? Check out our New York City audition listings!