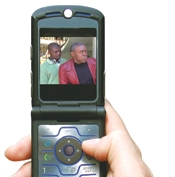 It's hard to believe that the tiny cell phone in your pocket is the next frontier for actors, but mobile-content producers -- such as Fun Little Movies, GoTV Networks, ROK TV, and the Comedy Time Network -- say they expect the medium to increasingly bring gigs and production deals, not to mention pay, to many unknown actors.
"More mobile programming is being produced every year, so more opportunities are showing up [for actors]," says Thomas N. Ellsworth, president and chief operating officer of GoTV Networks (www.gotvnetworks.com), a mobile-entertainment network based in Los Angeles that offers rebroadcast televised programming along with original shows such as Crescent Heights -- a fish-out-of-water series about a girl from Wisconsin who moves to Los Angeles.
Comedy series offered via mobile devices are nothing new. The Comedy Time Network (www.comedytime.tv) provides purely comedic content -- standup and "funnysodes" -- for cell phone users. One of its episodic shows, Soul and Son, was created by actor André Meadows. The network recently signed Meadows to a lucrative production deal based on his show about the Funk Soul Avenger and his protégé.
"We have committed to him a certain amount of money per year to be writing for Comedy Time and developing other projects," says David Goldman, CEO of Comedy Time. "I guess that's the opportunity for actors is to be able to be a star in your own vehicle or just have a great meaty role that might be very difficult to get in traditional television."
Others see the mobile medium eventually becoming an actor's calling card. "A short film that stars you is the headshot of the future," says Frank Chindamo, president and chief creative officer of Fun Little Movies (www.funlittlemovies.com), which produces original, live-action comedy films and has 30 distribution outlets through mobile communications companies such as Sprint and Nokia.
Chindamo says his company, based in Burbank, Calif., accepts submissions from unknown actors. "If you're an actor, you can team up with writers, you can team up with directors and camera people, and just go out and shoot stuff," he says. His only caveat: Keep the content clean and family-friendly. "Edgy sells to you and your friends, and it sells on the Web, but it doesn't sell in mobile," he warns.
Fun Little Movies splits the profits for mobile videos 50-50 with filmmakers, who can make thousands of dollars per quarter. The revenue is determined by the number of subscribers to the carrier's video-viewing services.
"The amount of money, however, is going to go up and up and up probably, because the number of outlets that are using Fun Little Movies is going up," says Chindamo, who notes his company is now starting to ink global distribution deals. "That puts us as having [distribution as] good as some of the major television networks."
One unexpected advantage of acting for mobile videos is that actors have the opportunity to reach more viewers than they could on television. "Actors need to understand that there are 3 billion handsets worldwide. That's more screens than all the TV sets, all the PC screens, and all the cinema screens combined," says Bruce Renny, marketing director for the U.K.-based ROK Entertainment, provider of RokTV (www.rok.tv) for cell phones. "I can see the day -- coming surprisingly soon -- when there will be a whole new group of actors who make a very good living from mobile TV and those whose careers are born in mobile TV who migrate into mainstream TV. I'd bet on it."
Nicole Kristal can be reached at nkristal@backstage.com.