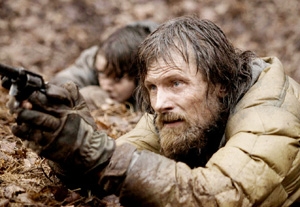 As part of its ongoing An Evening With… screening series, Back Stage welcomed actors Michelle Monaghan and Viggo Mortensen and director Michael Hoffman to three recent events.
On Nov. 6, "Trucker" star Monaghan appeared following a screening of the film to talk about playing fiercely independent truck driver Diane Ford. The actor revealed that she prepared by attending a truck driving school and going on short trips with female drivers. "I definitely had some stereotypes that were blown apart," Monaghan said. "You tend to think that truck drivers are uneducated or didn't choose this lifestyle. And nothing could be further from the truth. I met college graduates, intelligent people, fascinating people."
On Nov. 7, Back Stage welcomed writer-director Hoffman to speak after his film "The Last Station." Actor James McAvoy was scheduled to appear but had to cancel due to illness. Prior to the film, Hoffman read an email from McAvoy apologizing for missing the event. After the film, Hoffman said he had difficulty finding someone for the lead role, saying, "I had a lot of conversations about people who could play this role. And I was stumped." He then saw McAvoy in "The Last King of Scotland" and knew he was perfect for the part. Hoffman also said his original script, about the tempestuous relationship between Russian literary giant Leo Tolstoy and his wife, was a hot commodity. "It's the only screenplay I ever wrote or developed or directed where every actor I gave it to said yes," Hoffman noted. But even with actors Anthony Hopkins and Meryl Streep cast as the leads, he couldn't get the film financed. He eventually made the film with Christopher Plummer and Helen Mirren.
On Nov. 9, Mortensen spoke following a screening of his new drama "The Road." Based on the Pulitzer Prize-winning novel by Cormac McCarthy, the story follows an unnamed man and his 11-year-old son as they travel a post-apocalyptic landscape. Mortensen sang the praises of his young co-star, Kodi Smit-McPhee, who plays the son. "I had told the director, 'If we don't find a really special young actor, we can only go so far as living up to the book,' " said Mortensen. " 'We need a kid who's a genius somehow and special as a person.' And we found him."


For upcoming events, including the Nov. 18 screening of "Up in the Air," followed by a Q&A with actors Vera Farmiga and Anna Kendrick, keep checking BackStage.com.