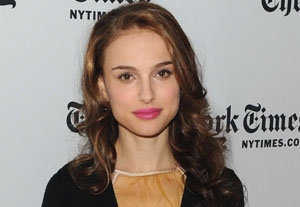 Oscar winner Natalie Portman has ousted perennial topper Johnny Depp to rank No. 1 on
IMDb
's list of the Top Stars of 2011.
The site's list looks not at critical praise or box office performance but rather at viewer interest in a star's IMDb page. In this case, the "Black Swan" star's page was visited more times than any other actor this year. Coming in second was Portman's co-star Mila Kunis, with veteran Depp --who has ranked at No. 1 six out of the last seven years-- sliding into the No. 3 slot.
As the IMDb's managing editor Keith Simanton points out, Portman gave viewers many reasons to stay interested, from her best actress win to the birth of her child to her appearance in three movies, "Thor," "Your Highness" and "No Strings Attached."
Rounding out the list in order: "The Help's" Emma Stone, "Thor's" Chris Hemsworth, "Cowboys & Aliens'" Olivia Wilde, "The Hunger Games'" Jennifer Lawrence, "The Descendants'" George Clooney and "The Dark Knight's" Christian Bale.
According to the movie site, women claimed half of this year's top 10 slots, compared to only three last year when only Kristen Stewart, Megan Fox and Zoe Saldana made the cut. Perhaps surprisingly, Stewart and her similarly popular "Twilight" co-stars failed to make this year's top 10, with Stewart placing at No. 12 and Robert Pattinson at No. 26.
Among the highest ranked emerging stars to place in the top 100: Tom Hardy, Emily Browning, Rosie Huntington-Whiteley, Henry Cavill and "Glee's" Dianna Agron.
– The Hollywood Reporter