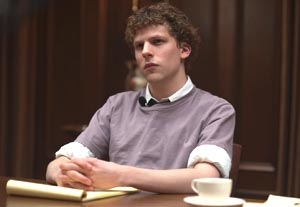 "The Social Network" took top honors from the National Board of Review today, winning Best Picture, Best Actor (Jesse Eisenberg), Best Director (David Fincher), and Best Adapted Screenplay (Aaron Sorkin).
Other pleasant surprises: Lesley Manville took home Best Actress honors for her gut-wrenching work in Mike Leigh's "Another Year" and the indie "Buried" was recognized for it's excellent original script. In the supporting field, honors went to the very worthy Christian Bale for "The Fighter" and equally stellar Jacki Weaver in "Animal Kingdom."
Perhaps the biggest surprise was what wasn't on the list: Darren Aronofsky's "Black Swan" received no honors, not even a mention on the 11 Best Films of the Year list. Neither did the praised "127 Hours" or "The Kids Are All Right." Hard to believe, as several inferior titles did make the list, most notably Clint Eastwood's wretched "Hereafter."
READ THE FULL STORY ON BEHIND THE SCENES BLOG