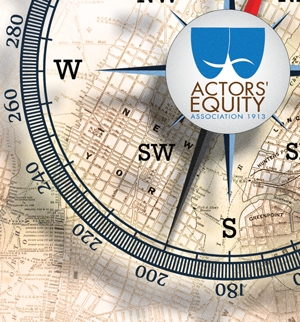 For the actor looking to sign up for Equity auditions in the next month or so, take note: The Actors' Equity Association Audition Center in the union's Times Square building will be closed through March, at which point a completely revamped space will be unveiled. Starting in January, Equity embarked on a two-year renovation of its national headquarters, which will eventually include renovated office space, a new entrance and lobby, and upgraded elevators. The building improvements, however, have in the short-term closed Equity's audition spaces, causing Equity to change its audition sign-up process.
First, Equity Chorus Call and Equity Principal Audition sign-ups will be held at the Times Square Visitor Center at 1560 Broadway, between West 46th Street and West 47th Street. In the ground-floor center will be a desk staffed by an Equity monitor. The desk will house all sign-up material, in addition to printed casting and audition notices. The center opens at 8 a.m., while the Equity desk will be open Monday through Friday from 9:30 a.m. to 5:30 p.m. (The center, nestled between the Palace Theatre and McDonald's, features a mini museum that includes an exhibit of the hats worn in iconic Broadway shows.)
Maria Somma, Equity's national director of communications, told Backstage that for the month of February, auditions will be held throughout the city at sites such as Pearl Studios NYC, Nola Rehearsal Studio, and Ripley-Grier Studios, rather than Equity headquarters.
Somma also noted that, as always, to find out about upcoming auditions and their locations, actors are encouraged to visit the Casting Call section on Equity's website (www.ActorsEquity.org/CastingCall). Similar information as well as other casting resources can be accessed at backstage.com.
Throughout the renovation process the Equity offices, including membership and auditions, will remain open, as will the Volunteer Income Tax Assistance program, which helps Equity and SAG members prepare their taxes for free.
"This is a temporary closing allowing for the final work to be completed on the new Audition Center," Somma said.