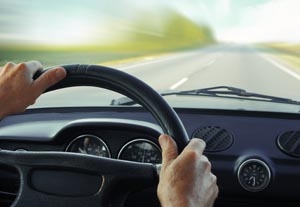 When Allison King moved from New York to Los Angeles five years ago, she found getting around impossible - and overwhelming. The actor was accustomed to the gridded streets of New York, where she hopped the subway to get to auditions. "I spent most of my adult life not driving, and relying on public transportation," she says. But she quickly discovered she needed a car to do her job in L.A.
King rented a car for two months, then decided to buy her own. Armed with a Thomas Guide that she found difficult to read, she often got lost. "I had so many stress-filled drives trying to get to an audition," she says. "I had no idea how long it was going to take."
Initially that can be one of the most difficult things to figure out, says actor Dayna Schaaf, an East Coast transplant who spends a lot of time planning her routes in order to get to auditions. "I give myself such a big chunk of time to get there," she says. "I would rather have 30 minutes to burn than be racing through the door with my hair sticking out in every direction. It just takes more time to do our job than it would otherwise if we had an effective public transportation system we could rely on."
For actors in Los Angeles, getting to auditions and acting jobs can be just as difficult as landing them. Actors here have to navigate crowded freeways and streets, jockey for parking spaces, and figure out the most efficient ways to get to their destinations. This often means spending a large part of their day getting to and from auditions and jobs and discovering back roads. "One of the fun things about driving in L.A. is finding the shortcuts," King says.
Going Public
Schaaf grew up using public transportation on the East Coast. When she came to L.A. to study acting at the University of Southern California, she didn't have a car. "I spent the first few years that I lived at USC just stranded," she says. King tried to use public transportation in L.A. "I'm a strong proponent of public transportation," she explains. "I absolutely hate to drive, but I just find it so frustrating here. The routes don't always make sense to me, and [many of] the bus stops didn't have places for shade." The actors agree that having a car in L.A. is an absolute necessity, even though owning one can be expensive.
Still, there are a number of public transportation options in L.A. The Los Angeles County Metropolitan Transportation Authority, aka Metro, has a fleet of more than 2,000 buses covering nearly 1,500 square miles of routes. These include many limited-stop, Rapid, and Express buses that allow riders to travel the city's major thoroughfares more quickly than on local buses that make frequent stops. Metro also operates a network of subways and rail lines, but East Coast transplants will likely find the system wanting due to its limited reach in sprawling Los Angeles. From Union Station in downtown L.A., riders can make subway or rail connections to destinations ranging as far away as Long Beach to the south, Pasadena to the northeast, Koreatown to the west, and North Hollywood to the northwest.
There is also the regional Metrolink system of commuter trains that travel between Union Station and cities in the counties of Orange, San Diego, Riverside, San Bernardino, and Ventura.
All these add up to a workable system of mass transit for riders whose destination largely remains the same day in and day out. But for the actor new to L.A. who might have to get to, say, Santa Monica one day, Silverlake the next, the far reaches of the San Fernando Valley the day after that - or all three in one day - relying solely on public transportation might not be practical. There's just too much ground to cover on any given day, and most actors won't want to risk losing a great audition because of a missed train connection or because several filled-to-capacity buses whiz by their stop. Use public transit when it makes sense, but also heed our actors' advice: Get a car or at least regular access to one.
Mapping a Plan
King and Schaaf understand how important it is to get to an audition on time, and both actors prepare for the worst. King relies on the map function on her iPhone and describes herself as a chronic early person who often arrives at auditions 15 to 30 minutes ahead of time. She uses the extra time to center herself and get into character, she says. Schaaf uses multiple ways of planning routes and monitoring traffic, including Google Maps and checking her smartphone. She also has a navigation system in her car.
Another useful tech tool is Sigalert.com, which offers color-coded freeway maps and camera images showing current traffic conditions, as well as bulletins about accidents and traffic hazards.
King and Schaaf agree it's crucial to know how to get around on surface streets. "If you are an experienced actor, if you have lived in L.A. for more than a few years, you've hopefully learned not to take the freeway all the time, because you can just get stuck in massive traffic," Schaaf says. "It's impossible for it to not happen. You can plan as much as you want, but inevitably it will."
"There are some really great shortcuts to go over the hill into North Hollywood," says King, citing Outpost Drive near the 101 Freeway as an example. She also recommends Coldwater Canyon Drive to access the San Fernando Valley and cites Venice and Adams boulevards as alternatives to the oft-snarled eastbound 10 Freeway out of Santa Monica.
To compensate for spending so much time getting to auditions, King drops in on nearby casting offices or has coffee with friends in whatever area she happens to be in. "That's been really useful to me," she says. "It's all about extending myself."
Different kinds of auditions come with their own sets of challenges. In some cases, it can be difficult to find parking. Schaaf says she has seen women who look just like her driving around in circles looking for a parking space. She knows they are going to the same audition, and the competition has started even before they get through the door. Auditions on studio lots mean actors have to plan time to park and go through security, Schaaf says.
Spending so much time getting from one appointment to another can be isolating, she adds. "It's weird. We are all in these little boxes by ourselves. People say they feel lonely because they're always driving in their cars."
King passes the time in her car listening to podcasts. "It keeps me from road rage," she says. "The time doesn't feel dead. You feel intellectually stimulated and active instead of sitting in the car waiting." King also appreciates being able to throw everything she needs into the trunk of her car. In New York, she often ended up carrying around numerous changes of clothing and other items she needed during the day.
For tax purposes, Schaaf says, it is important to keep track of what you pay for parking, which has become easier since many meters started accepting debit and credit cards. In sum, she advises actors who move to the city, "I would say a roll of quarters in your car; $10 in quarters in the center console; definitely leave yourself a ton of time to get there; and then learn the surface streets and alternatives to the freeways."
Seeing Red (and Green) on Jaywalking
Attention, new arrivals from New York: Look both ways before you jaywalk, if not for your own safety, then for your wallet's sake.
Police in the Big Apple may not care when you cross the street wherever and whenever you please, but authorities "out here" are notorious for their periodic crackdowns on jaywalking. One such zero-tolerance action in downtown L.A. during the holiday shopping season last year threatened jaywalkers with more than a scolding and a piddling fine. Rather, authorities promised to slap violators with a $190 citation, according to news reports.
The steep fine raised complaints of a government cash grab, but police said the enforcement was motivated by pedestrian safety and crime prevention. "This is about more than reducing accidents during the holidays," Los Angeles Police Department Lt. Paul Vernon told the Los Angeles Times. "This is about preventing thefts and robberies. Jaywalking is often done by thieves, purse snatchers, and robbery suspects to target their victims."