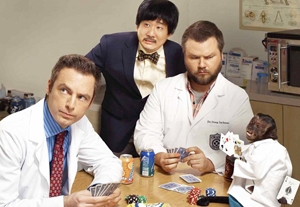 The single-camera comedy pilot "Animal Practice" was just picked up to series by NBC, but a major role is now being recast,
Deadline reported
Tuesday. Amy Huberman, who played the female lead in the pilot, will not continue with the series.
The sitcom stars Justin Kirk ("Weeds") as George Coleman, a veterinarian who loves animals but hates their owners. Bobby Lee and Tyler Labine co-star as fellow doctors. Huberman played Dorothy, George's beautiful and intelligent ex-girlfriend, who is now engaged to another man and is assigned to run the animal hospital. The Irish actress was reportedly cast in the pilot after her first-ever U.S. audition.
"Amy wasn't even in Los Angeles for pilot season, she was just over meeting potential U.S. managers," her spokeswoman told the
Belfast Telegraph
after Huberman learned she would be replaced. "The fact that she was cast for a pilot at her first U.S. audition is incredible. The fact that she is not going to be in the series is a major disappointment but typical of pilot season and Amy was well aware that things like this could happen."
Casting director Lisa Miller Katz cast the pilot, which was formerly titled "Animal Kingdom." Her previous credits include the TV comedies "According to Jim," "The King of Queens," "Everybody Loves Raymond," "The Fresh Prince of Bel-Air," and the new ABC series "Don't Trust the B– in Apartment 23," as well as recent films "Easy A" and "Friends with Benefits."
When NBC announced that it had ordered a 13-episode season of "Animal Practice," Huberman's husband, Irish rugby player Brian O'Driscoll, tweeted, "Very proud of my wife
@amyhuberman
who's new show 'Animal Practice' has been picked up by NBC stateside. #toLA."
Huberman tweeted
Tuesday, "Thanks so much for all the lovely well wishes about the pilot guys! But I was only contracted for the pilot and I won't be doing the series." Her next tweet was simply the phrase "
#lifeofanactress
." Huberman currently stars in the U.K. Comedy Central series "Threesome."
Dan Lehman is a staff writer at Back Stage. Follow him on Twitter: @byDanLehman.