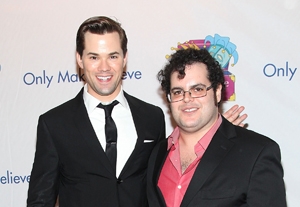 NBC has announced that it has given series orders to several new comedies for the 2012-13 TV season, including shows starring Josh Gad and Tony nominee Andrew Rannells, who have become bona fide stars thanks to their breakout roles in Broadway's blockbuster musical "The Book of Mormon."

The network has ordered 13 episodes of "1600 Penn," a White House family comedy written by and co-starring Gad. Described as a "Modern Family"-type show set in the White House where all the kids are far from perfect, "1600 Penn" stars Bill Pullman as the President of the United States, with Jenna Elfman as the First Lady and stepmother to his children.

Gad will write and executive produce "1600 Penn" with former White House speechwriter Jon Lovett, while Jason Winer ("Modern Family") will executive produce and direct the single-camera comedy. Casting director Debra Zane ("The Hunger Games," "Away We Go") cast the pilot.

NBC has also ordered a full season of the "The New Normal," a single-camera sitcom starring Rannells and Broadway veteran Justin Bartha ("Lend Me a Tenor") as a gay couple who start a family with the help of a surrogate (Georgia King). Tony winner Ellen Barkin ("The Normal Heart") also stars. "The New Normal" is co-written by "Glee" creator Ryan Murphy and Allison Adler. Casting director Susie Farris ("Whitney," "Royal Pains") cast the pilot.

In January, Gad and Rannells – along with Tony Award-winner Nikki M. James, Tony-nominee Rory O'Malley, Michael Potts, Lewis Cleale, and Brian Tyree Henry – extended their contracts for another year to appear in "Book of Mormon" through February 2013. But with their upcoming television commitments, it is unlikely that either Gad or Rannells will be able to continue with the show as planned. (The Tony-winning musical celebrated its one-year anniversary on February 24 at the Eugene O'Neill Theatre. The principal cast is also rumored to be part of a potential "Mormon" movie musical adaptation scheduled for 2014.) Back Stage has reached out for comment, and will update the story once more information is available.

Whether they continue to share the stage in "Book of Mormon" every night or not, Gad and Rannells look forward to making the move to NBC together. On Tuesday, Gad tweeted, "NBC here we come!! So excited that @AndrewRannells and I get to continue to work under the same roof." Rannells replied, "Congrats, brother! I am so happy for you!"

Among his many TV and film credits, Gad guest starred in "Modern Family" and has been a correspondent for "The Daily Show with Jon Stewart." He will be playing Apple co-founder Steve Wozniak in an upcoming biopic of Steve Jobs.

"The New Normal" will be the first major television role for Rannells, who received a Tony Award nomination for his performance as Elder Price in "The Book of Mormon" and was previously on Broadway in "Hairspray" and "Jersey Boys." He recently appeared in an episode of new HBO series "Girls," and has lent his voice talents to many video games and animated programs.

In addition to "The New Normal" and "1600 Penn," NBC previously ordered new comedies "Go On," starring Matthew Perry and Tony Award-winner Laura Benanti; "Save Me," starring Anne Heche; "Animal Practice," starring Justin Kirk; and the drama "Revolution" from J.J. Abrams and Eric Kripke. Pilots from comedians Roseanne Barr and Sarah Silverman were not picked up by the network.


The cast of "1600 Penn" (NBC)
The cast of "The New Normal" (Robert-Trachtenberg, NBC)

Daniel Lehman is a staff writer at Back Stage. Follow him on Twitter: @byDanLehman.